The Footsteps of the American Saints program encourages all Catholic youth to get to know holy men and women who lived in America or who had a strong influence on American life. One of the saints included in this series is St. Isaac Jogues.
Learn About St. Isaac Jogues
The first step in the activity is to learn about St. Isaac Jogues and answering a few questions about him. Here are the basics of his story.
Sent as a Missionary
St. Isaac Jogues was born in Orleans, France on January 10, 1607. He was ordained a Jesuit priest in 1636 and was sent as a missionary to Quebec. He and some fellow priests were captured by the Mohawk Iroquois. He was tortured and lived as a slave among the Iroquois until some Dutch traders ransomed him.
A Living Martyr
While among the Iroquois he taught them about Christianity. Upon his return to Europe, he was greeted with joy and revered for being a "living martyr." Everyone thought he had already died. His hand had been so mutilated by the earlier torture that he had to be given a dispensation by Pope Urban VIII to say Mass since the Church law at the time said that only the thumb and forefinger could touch the host.
His Return
After a time, he returned to Mohawk territory, but the Mohawks were suspicious of him and his fellow missionaries. He was killed by a tomahawk blow on June 29, 1646. Seven other North American martyrs were also killed. St. Isaac Jogues feast day is celebrated on October 19.
See more resources related to the St. Isaac Jogues and the other North American Martyrs.
Other Requirements
The second part of the program involves some activities to understand why St. Isaac Jogues is important to us. These include the following choices:
A discussion of his life
Drawing a picture of the things he did
Creating a collage with the other martyrs who died with St. Isaac Jogues
Creating a cross and hanging it in a room
Get the Patch
Upon completion of the activity, a patch may be ordered. This program is sponsored by the National Catholic Committee on Scouting, but it is open to all youth and adults whether they are involved in Scouting or not. Read the full requirements for the patch.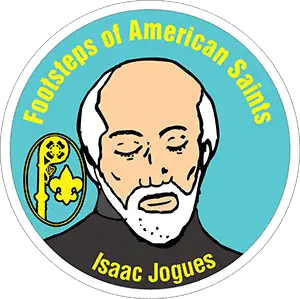 Additional Resources
We are sorry that this post was not useful for you!
Let us improve this post!
Tell us how we can improve this post?