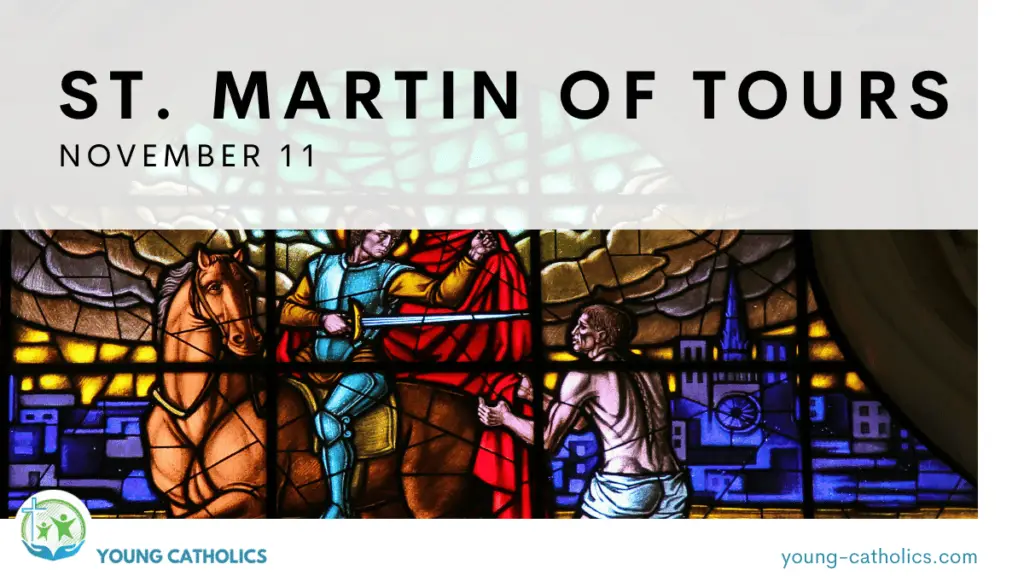 St. Martin of Tours was a 4th century soldier in the Roman military. He lived during a time when Christianity had become legalized in the Roman Empire. He was a catechumen – one being instructed in the Catholic faith in preparation for baptism. He refused to continue fighting after his baptism. "I am the soldier of Christ: it is not lawful for me to fight."
He later started a monastery in the city of Tours in France. He evangelized the people in the region and later became bishop.
A popular story recounts that when he was a soldier and was approached by a beggar, he cut off half of his cloak and gave it to the beggar. That night, Jesus appeared to him in a dream and said, "Martin, who is still but a catechumen, clothed me with this robe."
Patron Saint of …
St. Martin of Tours is the patron saint of conscientious objectors, soldiers, tailors, the poor, and winemakers.
Daily Mass Readings for the Memorial of Saint Martin of Tours, Bishop
In addition to the suggested readings below, the readings may also be taken from the weekday readings, the Common of Pastors, or the Common of Holy Men and Women (for religious).
First Reading – Isaiah 61:1-3: "He has sent me to bring glad tidings to the lowly, to heal the brokenhearted"
Responsorial Psalm – Psalm 89: "For ever I will sing the goodness of the Lord."
Gospel – Matthew 25:31-40: "For I was hungry and you gave me food, I was thirsty and you gave me drink, a stranger and you welcomed me, naked and you clothed me, ill and you cared for me, in prison and you visited me."
Sponsored

Read more about St. Martin of Tours
Quotes and Social Media Graphics
Lord, if your people need me, I will not refuse the work. Your will be done.

St. Martin of Tours
If we do not want to live life poorly, let us ask for the grace to see Jesus in the poor, to serve Jesus in the poor. #SaintMartinOfTours

Pope Francis
Since St. Martin is the patron saint of soldiers, it seems appropriate to say a prayer for chaplains on his feast day, which is also Veterans Day in the United States.
This article explains the connection between St. Martin of Tours and Veterans Day.