About the 17th Sunday in Ordinary Time – Year B
Sunday, July 28, 2024
The readings for the 17th Sunday in Ordinary Time Year B tell of how God provides for all of our needs and feeds us spiritually. In the first reading Elisha assures his servant that 20 barley loaves will feed 100 people, and it does just as the Lord promised. And in the gospel Jesus feeds the crowd of five thousand with five loaves and two fish, a foreshadowing of the Eucharist.
These readings would lead to a discussion of Eucharist and recognizing the abundance in our lives.
Resources
Daily Mass Readings for the 17th Sunday in Ordinary Time Year B
Social Media Graphic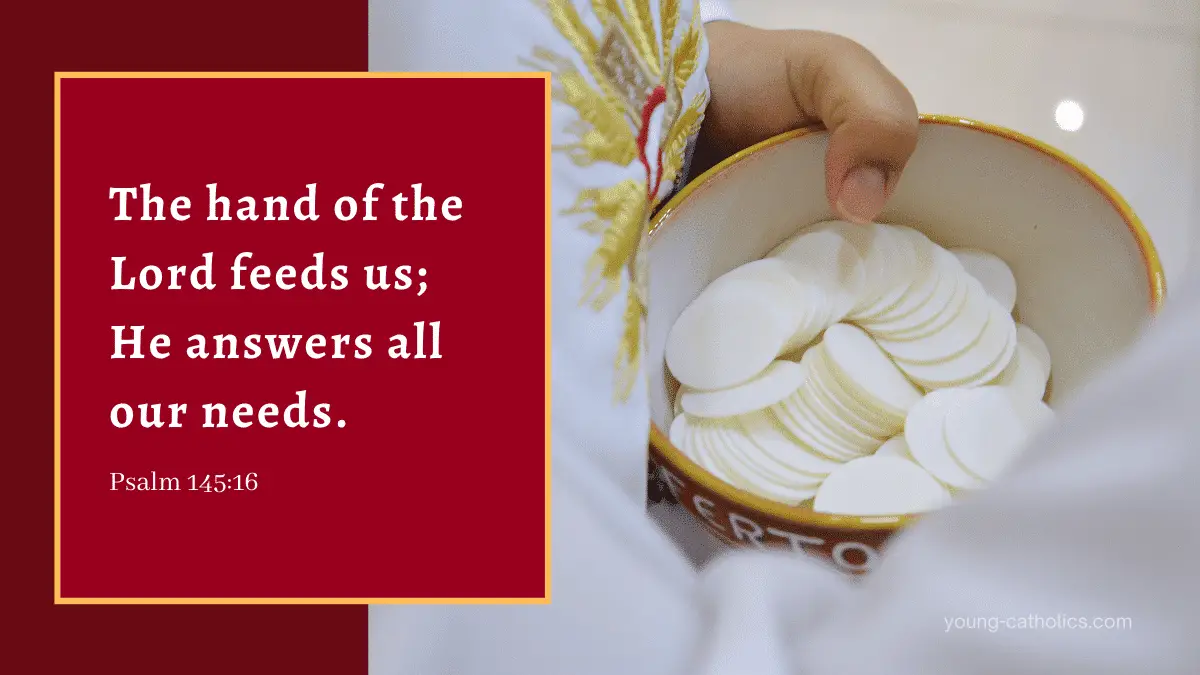 The hand of the Lord feeds us; he answers all our needs.
Feel free to download and use with reference to young-catholics.com
This quote from Psalm 145 assures us that the hand of the Lord feeds us. God is looking out for us. He knows what we need and He provides for us. This is especially true of how God feeds us through the Eucharist.
For a prayer based on this psalm, see God Sustains Us – A Prayer Based on Psalm 145
Top ideas for 17th Sunday in Ordinary Time – Year B
This Eucharist lesson plan will help youth understand that God provides for all of our needs. He especially cares for our spiritual needs through the gift of Himself in the Eucharist.
It would be good to ask ourselves every day: "What do I bring to Jesus today?". He can do a lot with one of our prayers, with a gesture of charity for others. This is how God loves to act:…
With the miracle of the multiplication of the loaves, Jesus wants to educate His friends, both then and now, about God's logic: the logic of taking responsibility for others.
We know God sustains us and cares for us. This is a prayer based on Psalm 145, which expressed praise to God for the way he watches over us.
This sacrament scavenger hunt introduces some of the symbols and concepts of the sacraments in a fun way. Hide various sacrament related items around your meeting space or grounds. Here is a list and some tips. Some of the items…
This donut fishing youth ministry game will get everyone laughing. It is only a little messy, so it can easily be done indoors. Your teens will love it.
In this video about the unity of the Eucharist, Jeff Cavins explains the themes in the Mass readings for the 17th Sunday in Ordinary Time, Year B.
We are sorry that this post was not useful for you!
Let us improve this post!
Tell us how we can improve this post?