Saint Peter Claver is known for his unwavering commitment to serving the marginalized. Born in Spain in 1580, he joined the Jesuit order and later embarked on a mission to Cartagena, Colombia, in the early 17th century.
St. Peter Claver's approach to his work was straightforward and deeply practical. He dedicated his life to ministering to enslaved Africans brought to the New World, recognizing the profound injustices they faced. His mission was clear: to provide them with spiritual support, care, and, importantly, dignity.
His daily routine was a testament to his dedication. He would meet the slave ships as they arrived, often being the first person to step on board. In the harsh conditions of the ships, he offered food, clean water, and medical care, all while teaching the Christian faith. His actions were not about grand gestures but rather the simple act of extending a hand to those who suffered.
His life is a reminder of the power of practical compassion and unwavering commitment. His legacy challenges us to recognize the suffering of others, irrespective of their circumstances, and to respond with practical kindness and empathy. In a world that often seeks grand gestures, Saint Peter Claver's example teaches us that the simplest acts of compassion can have a profound impact on the lives of those in need.
His feast day is September 9.
Patron Saint of ...
St. Peter Claver is the patron saint of slaves, race relations, and seafarers.
Daily Mass Readings for the Memorial of Saint Peter Claver, Priest
Readings for the Memorial may also be taken from may also be taken from the Common of Pastors, or the Common of Holy Men and Women.
First Reading - Isaiah 58:6-11: The LORD outlines the true meaning of fasting: to fight injustice, help the oppressed, and care for the needy. Doing so leads to divine guidance, strength, and blessings.
Responsorial Psalm - Psalm 1: Those who avoid evil and delight in the LORD's law are blessed. They prosper like a fruitful tree. In contrast, the wicked are fleeting and doomed, while the just are watched over by the LORD.
Gospel - Matthew 25:31-40: Jesus tells his disciples that at the final judgment, people will be separated like sheep from goats based on their actions. The righteous, who cared for the needy, will inherit the kingdom of God.
Quotes from St. Peter Claver
"We must speak to them with our hands by giving, before we try to speak to them with our lips."
"To love God as He ought to be loved, we must be detached from all temporal love. We must love nothing but Him, or if we love anything else, we must love it only for His sake."
Resources and Activities
When ships carrying enslaved people arrived, Peter Claver didn't waste time. He went out to meet them with food and clothes for the living and helped remove the bodies of those who had died during the journey. He made sure to take care of the sickest ones first and took them to a hospital he had built nearby. If you want to learn more about this saint in a hands-on way, you can start by checking your family's first aid kit to make sure it's well stocked with essential supplies. This simple action can be a practical step to introduce him to your family.
The Saint Peter Claver Activity Patch, part of the American Saint Series, recognizes the remarkable life and contributions of Saint Peter Claver, a Spanish missionary who dedicated himself to serving enslaved individuals in Colombia. He is celebrated as the Patron Saint of enslaved peoples, the African diaspora, African missions, Colombia, and interracial justice. His compassionate work included meeting ships carrying enslaved people, providing them with food and medical care, and tending to their immediate physical needs before addressing their spiritual well-being.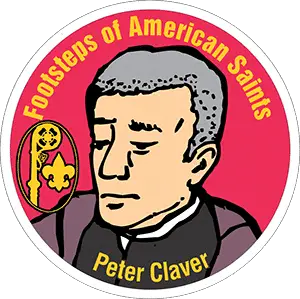 This activity patch has grade-specific requirements for youth participants and opportunities for engaging activities like creating posters, drawing pictures, or organizing food drives. Adults can mentor and guide the youth in completing these requirements, fostering a deeper understanding of Saint Peter Claver's impactful life.
The American Saint Series as a whole honors men and women who have profoundly influenced American Catholics through their faith, actions, and devotion to prayer and sacraments. These individuals, whether canonized as "Saints," beatified as "Blessed," or honored as "Venerable," have left an indelible mark on the Catholic American landscape.
There are age appropriate options for young children, middle and high school, and adults. The patch program is sponsored by the National Catholic Committee on Scouting, but anyone can earn it, Scout or not. Or just use the materials to get ideas for teaching about this dedicated saint.
Frequently Asked Questions