About St. Peter Claver
Feast Day: September 9
St. Peter Claver ministered to slaves arriving in the Caribbean port city of Cartagena. He fed them and treated their diseases and wounds. His feast day is September 9.
Patron Saint
St. Peter Claver is the patron saint of slaves, race relations, and seafarers.
Quotes
"We must speak to them with our hands by giving, before we try to speak to them with our lips."
"To love God as He ought to be loved, we must be detached from all temporal love. We must love nothing but Him, or if we love anything else, we must love it only for His sake."
Sponsored
Read about St. Peter
Resources
This New World saint is known for providing first aid to slaves being brought into port. This article provides a hands on idea for learning more about this saint.
This activity is part of the American Saints series. There are age appropriate options for young children, middle and high school, and adults. The patch program is sponsored by the National Catholic Committee on Scouting, but anyone can earn it, Scout or not. Or just use the materials to get ideas for teaching about this dedicated saint.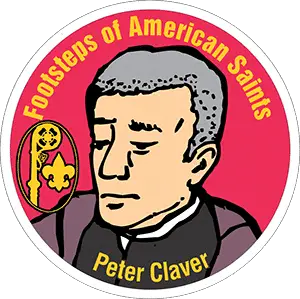 Sponsored
Includes a chapter on St. Peter Claver
We are sorry that this post was not useful for you!
Let us improve this post!
Tell us how we can improve this post?