Ash Wednesday marks the beginning of Lent. Catholics attending mass on this day have their foreheads marked with ashes as a sign of repentance.
Ash Wednesday is a day to remember that we are God's creation, made from the dust of the Earth. But it is also good to remember that we are God's Beloved. We might hear one of these admonitions as the ashes are rubbed on our heads in the form of a cross:
Turn away from sin and be faithful to the Gospel.
Remember you are dust and to dust you will return.
Repent and believe the Good news.
So on Ash Wednesday, we receive the ashes on our heads with a sense of sorrow for our shortcomings, but also with a sense of hope. With God's grace we can repent.
Mass Readings for Ash Wednesday
Ash Wednesday and Good Friday are obligatory days of fasting and abstinence for Catholics. In addition, Fridays during Lent are obligatory days of abstinence.

For members of the Latin Catholic Church, the norms on fasting are obligatory from age 18 until age 59. When fasting, a person is permitted to eat one full meal, as well as two smaller meals that together are not equal to a full meal. The norms concerning abstinence from meat are binding upon members of the Latin Catholic Church from age 14 onwards.

USCCB
Sponsored

Get a set of Lenten reflections
Resources for Ash Wednesday
This printable cryptogram is a fun way to introduce youth to the vocabulary for Lent and Triduum. Each word is encrypted and definitions are given. Youth must consider the definition and then decrypt the word.
This article from Busted Halo describes how Lent can be a little bit like March Madness. We make our brackets and fill them in. " Lent isn't basketball though. " This article may resonate with your youth and encourage them to go deeper during this holy season.
Does your Lent become a checklist of prayers and spiritual activities and things to do or not do? And then when Easter comes the list gets put away for the next year? Avoid Lent March Madness by using this time to make permanent changes to your life and draw closer to Jesus Christ.
Lent dice is a way to choose what activity to do each day for Lent. You roll two dice. One die will indicate what you will do that day and the other will indicate your intention, whom you are doing it for.
Videos
In this video, Fr. Mike talks about the significance of Ash Wednesday. What do the ashes mean? We understand we have reached a low point and are in need of redemption. But the ashes go beyond shame.
This brief video from Busted Halo answers some basic questions about Lent: What is Lent? What is Ash Wednesday? Why do people have ashes on their heads? Why fast, pray, and give during Lent?
In this video from Ascension Presents, Fr. Mike Schmitz explains the origins of Lent. It is a time of preparation, and testing, and training. Just as Jesus spent 40 days in the desert preparing for his ministry, we spend 40 days engaging in battle. Where are ashes in the bible? All over the place. In the Old Testament, ashes were a sign of repentance. What about no meat on Fridays? Jesus died on Friday and during Lent we abstain from "feasting" as a practice of mourning and recognizing Christ sacrifice.
These are practices Catholics find helpful in their personal spiritual journeys. Jesus is the one who gets us to heaven. When we practice self control and discipline we cooperate with the Holy Spirit and try to give up what we will so we are more open to do the will of the Father. "We try to respond with love to the God who is love."
Ash Wednesday Quotes and Social Media Graphics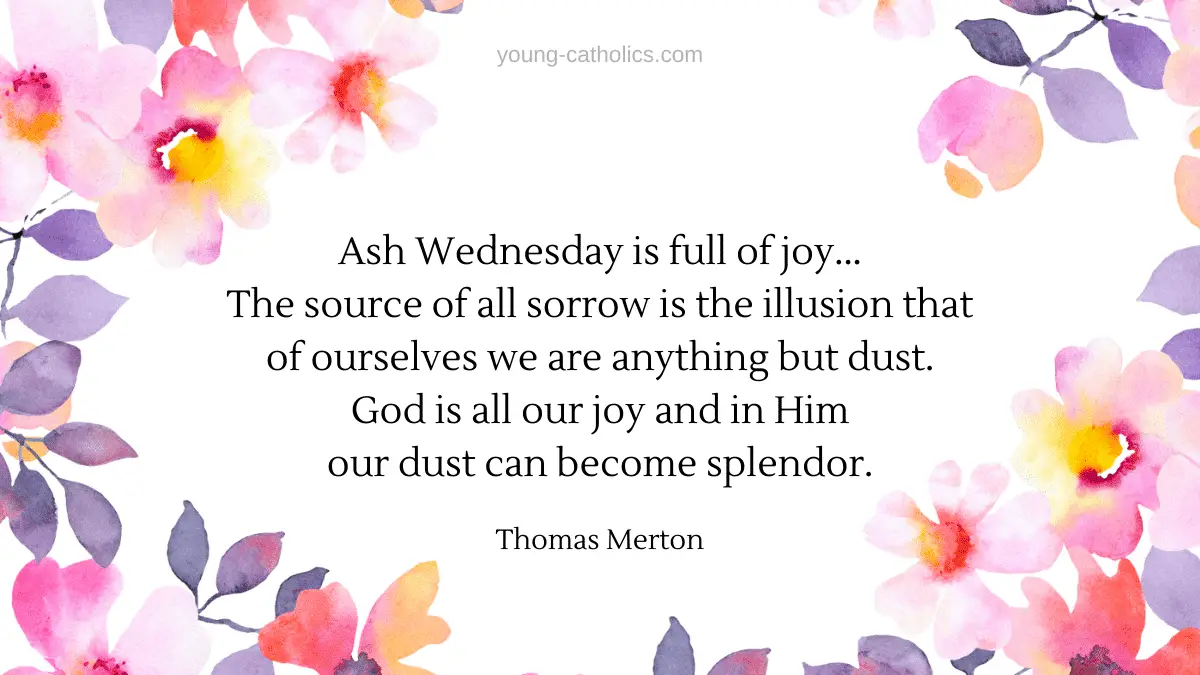 And yet Ash Wednesday is full of joy. In a minute we will sing None and go barefoot to get ashes on our heads to remember, with great relief, that we are dust. The source of all sorrow is the illusion that of ourselves we are anything but dust. God is all our joy and in him our dust can become splendor.

Thomas Merton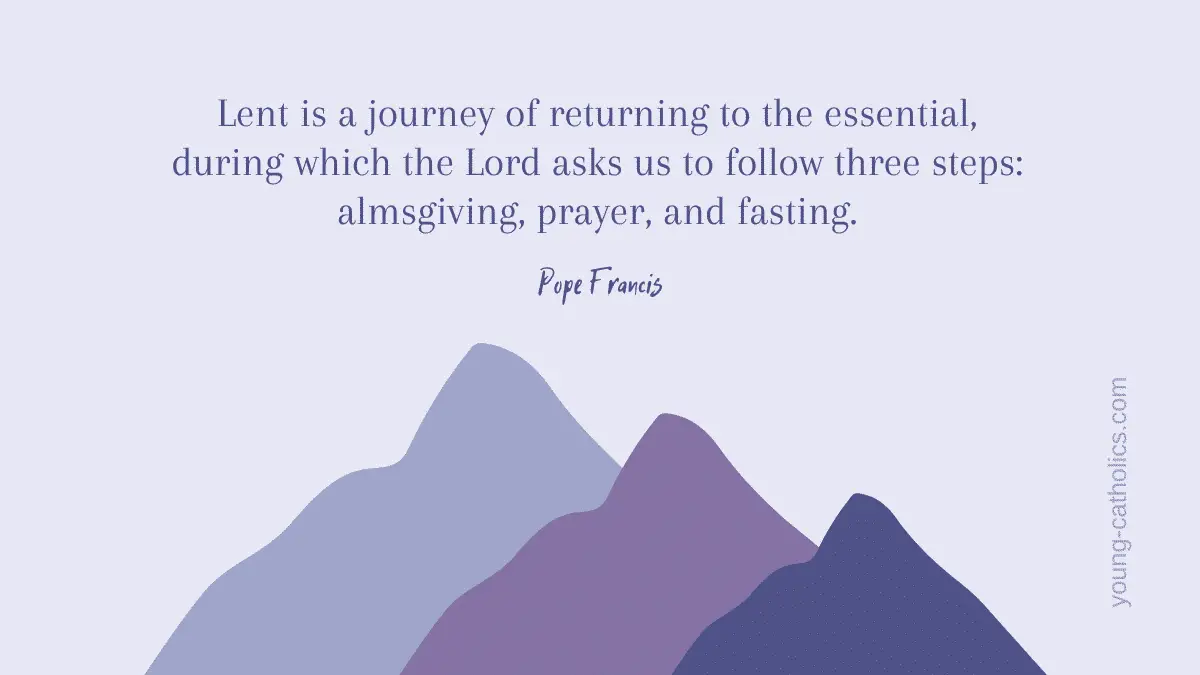 Lent is a journey of returning to the essential, during which the Lord asks us to follow three steps: almsgiving, prayer, and fasting.

Pope Francis
The ashes remind us that worldliness is like the dust that is carried away by a slight gust of wind. Sisters and brothers, we are not in this world to chase the wind; our hearts thirst for eternity.

Pope Francis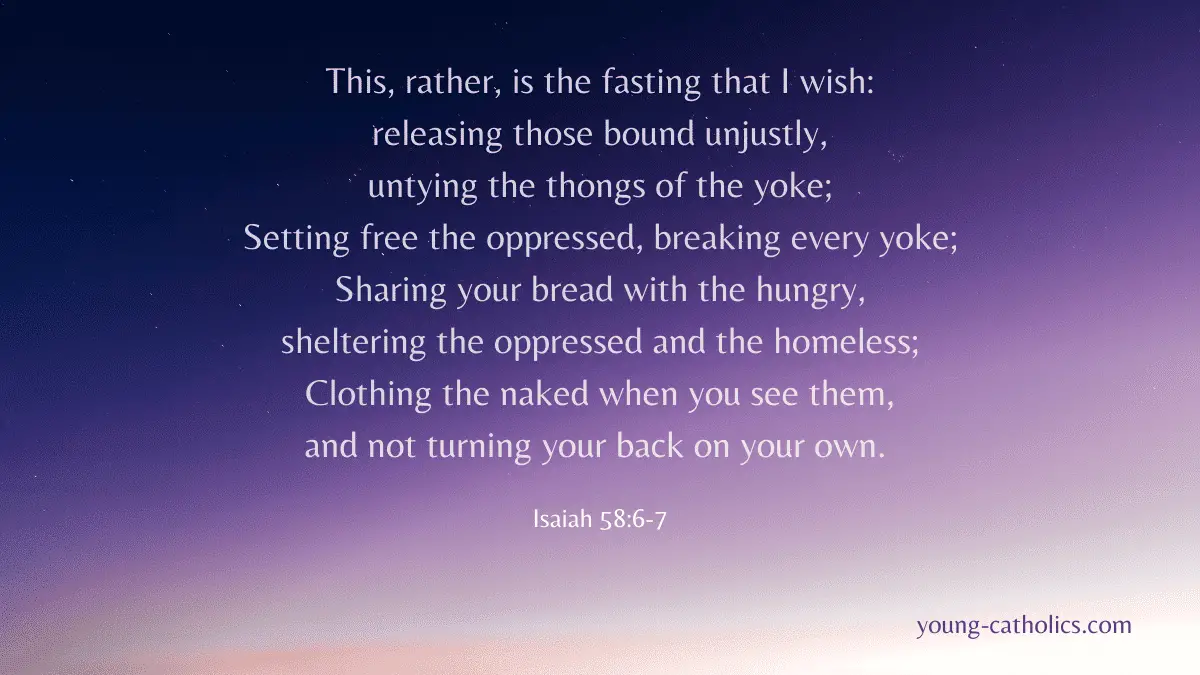 This, rather, is the fasting that I wish: releasing those bound unjustly, untying the thongs of the yoke; Setting free the oppressed, breaking every yoke; Sharing your bread with the hungry, sheltering the oppressed and the homeless; Clothing the naked when you see them, and not turning your back on your own.

Isaiah 58:6-7
Jesus himself went to the desert and fasted and prayed. This experience prepared him for his ministry, which was largely centered on bringing the Good News to the marginalized. So let our fasting not just be a pointless exercise. Let it spur us on to show God's love to our brothers and sisters who desperately need to be cared for.
Books, Devotionals, and Reflections
Sponsored

Get a daily devotional for Lent
Sponsored

Give up something different for Lent