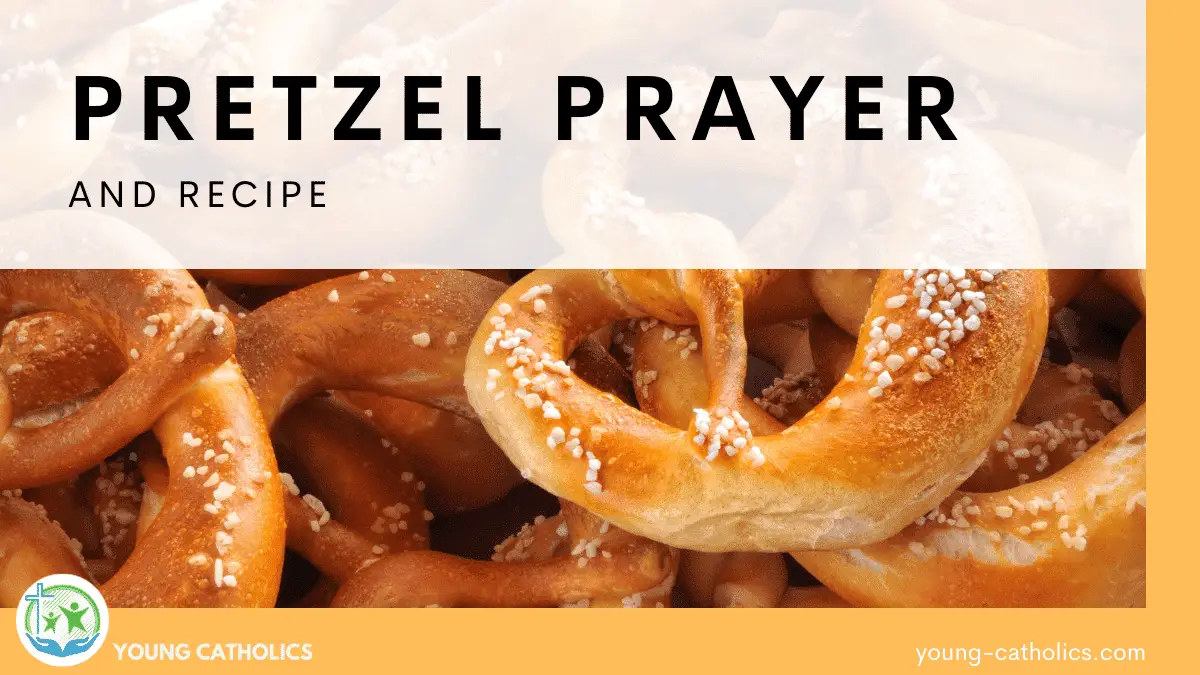 Pretzel Prayer and Recipe
The pretzel is a symbol of prayer. The twist in the pretzel is meant to look like hands in prayer. So here is a pretzel prayer to say as you enjoy these treats. A recipe is also included if you want to make your own pretzels.
Pretzels are made with simple ingredients – no sugar, butter, eggs, milk, etc. In many cultures these "richer" ingredients are avoided are not used at all during Lent.  So making pretzels with your family or youth group is a nice Lenten activity also.
Say a prayer when you serve your pretzels:
Pretzel Prayer
Heavenly Father, bless these pretzels.
Help them remind us that Lent is a time of prayer.
When we look at the shape of the pretzel,
Let us remember to cross our arms
And lift our thanksgiving and needs to you.
Lord Jesus, use these pretzels.
Help them remind us that Lent is a time of fasting.
When we consider the simple ingredients,
Let us remember the sacrifice you made for us on the cross,
And offer our own little sacrifices.
Holy Spirit, inspire us through these pretzels.
Help them remind us that Lent is a time of almsgiving.
When we pray and fast,
Let us consider those who have less
And give to them from our hearts.
Amen.
Soft Pretzel Recipe
These soft pretzels are fun and easy to make with your family.Steps 3 through 6 may be done in an automated bread machine. Follow your ABM's instructions.
Ingredients
1 pkg 2 1/4 tsp active dry yeast
1 1/2 cups warm water
1 tsp salt
4 cups flour approximately
coarse salt
Instructions
Line baking sheets with parchment.
Preheat oven to 425 degrees.
Dissolve yeast in warm water.
Add the salt.
Stir in 3 cups of flour.
Using additional flour, knead the dough until smooth and elastic.
Divide the dough into 18 pieces.
Roll each piece into a 10 inch rope.
Twist the rope into a pretzel shape and place on baking sheet.
Let the pretzels rest for 20 minutes.
Brush with water and sprinkle with coarse salt.
Bake for 12 to 15 minutes.
Sponsored

Get more activities, recipes, and crafts
Printable Copy of Prayer
Printable Copy of Recipe
Here is a game you can play with pretzels! This pretzel game is easy to set up and play.
We are sorry that this post was not useful for you!
Let us improve this post!
Tell us how we can improve this post?