St. Damien of Molokai
Feast Day: May 10
St. Damien of Molokai was born in Belgium in 1840. He became a priest there, but later he volunteered to be a missionary to Molokai in Hawaii.
There was a colony of people afflicted with leprosy (Hansen's disease) there. Because of fear of the disease, these people were isolated from other communities. Fr. Damien ministered to the people in the settlement and did a great deal to improve living conditions there. He himself contracted leprosy and eventually died in 1889.
His feast day is May 10.
Patron Saint of …
St. Damien of Molokai is the patron saint of people with leprosy and outcasts.
Daily Mass Readings for the Optional Memorial of Saint Damien Joseph de Veuster of Moloka'i, Priest
The readings for the feast of St. Damien may be taken from the Common of Pastors or the Common of Holy Men and Women.
American Saint Activity Series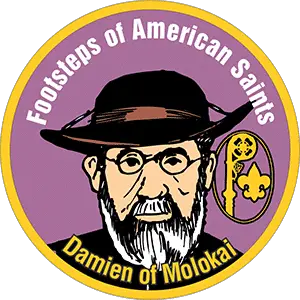 The American Saints Activity series helps families learn more about American saints in hopes that they will look to them as role models. One of the offerings in the series is based on the life of St. Damien of Molokai.
To earn the patch, youth and adults must learn about the life of St. Damien. Then they participate in their choice of activities based on what they have learned. For St. Damien, the activities include discussing what we admire about Damien, drawing a picture, creating a poster of hope for a hospital, and visiting with the sick or elderly.
More information about the program and the complete requirements for the patch can be found at St. Damien of Molokai Activity for Families.
This series is promoted by the National Catholic Committee on Scouting, but all youth and adults can do the activities and receive the patches, whether in Scouting or not, or Catholic or not.