Make a Rosary Slide Bracelet or Key-Chain
What is a Rosary Slide Bracelet?
A rosary slide bracelet or keychain is a nice craft to remind children and teens to pray. I like making the keychain which can actually be used for keys for teenagers. Or if they don't need a keychain they can hang it on their backpack or just keep it in their pocket to remind them to pray.
The idea is that the bracelet has beads on it which can slide up and down to help you say the rosary. Because of the way the beads are threaded, they stay in place when you slide them.
My example is a keychain. If you want to make a bracelet you would need a clasp. Attach one end at the top of the cross and the other at the end where the key ring is in mine.
I like using wooden beads, especially if I am giving these to teenagers. You can also use pony beads though. These make a nice craft for VBS or youth ministry.
Make a Rosary Slide Bracelet or Key-Chain
Materials (for one key-chain or bracelet)
Sponsored

See this devotion in a new light
Instructions for Rosary Slide Bracelet or Key-Chain
See corresponding pictures in this article.
Cut about 20 inches of twine. Maybe a little more for the first one until you see how long you need. It varies by the size of the beads you use.
String the twine through the cross.
Position the cross in the middle of the twine and tie a knot to keep it in place. (See picture)
String each end of twine through the large bead. (See picture)
Tie a knot at the top of the large bead to keep it fixed in place. (See picture)
String each end of twine through one of the small beads. Do not tie a knot. (See picture)
Add another small bead in the same way. (See picture)
Continue adding small beads until you have ten. Do not tie any knots between them. (See picture)
Leave some space (about 3/4 inch) and tie a knot. (See picture)
Attach a key ring or a bracelet clasp. (See picture)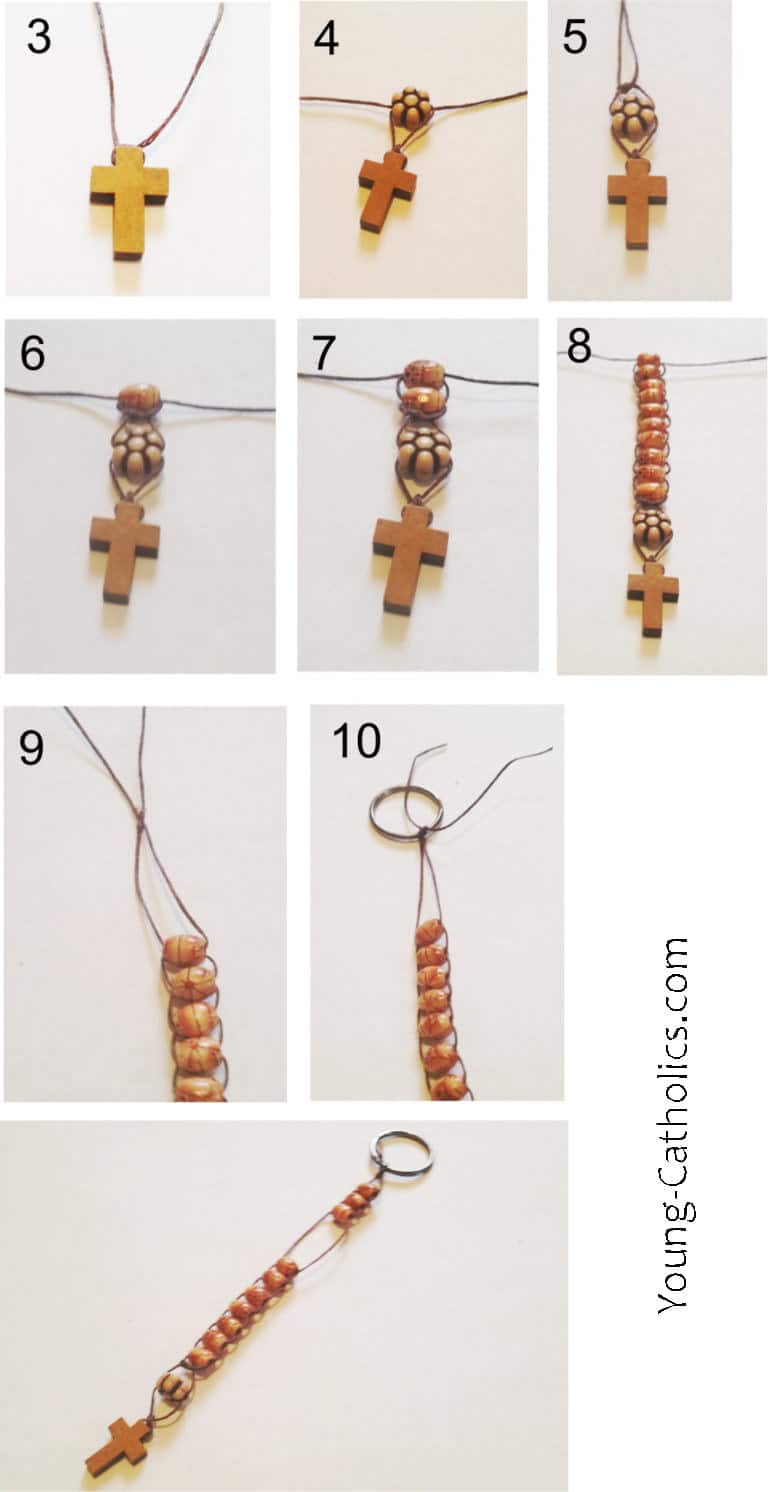 The rosary is one of the most misunderstood Catholic devotions. While some non-Catholics see it as worshiping Mary, it is in fact focused on Christ. The mysteries of the rosary are based on important events in the life of Christ. When we meditate on these mysteries while praying the rosary, we consider these events and how they relate to our own lives and our relationship with Jesus Christ.
Pray this devotion with your family or youth group. The USCCB site has instructions for which prayer to say on which bead and the words for the prayers of the rosary if you do not know them all.