About the 28th Sunday in Ordinary Time Year B
October 13, 2024
The readings for the 28th Sunday in Ordinary Time Year B challenge us to focus on trusting in God instead of in our material goods. The first reading tells of valuing wisdom over power and riches. The second reading reminds us that we will be held accountable for our decisions. And in the gospel, Jesus encounters a rich man who struggles with giving up his material wealth to be a disciple. Jesus explains that it is hard for the wealthy to enter the Kingdom of God.
This weekend's discussion could focus on not being too attached to things and spending our energy on spiritual riches instead.
Daily Mass Readings for the 28th Sunday in Ordinary Time Year B
Resources
This lesson plan asks youth to consider if money and wealth are a barrier to the path of discipleship.
In this prayer we abandon all we have to God.
How hard is it for a camel to squeeze through a narrow space? Find out with this game.
This prayer is based on Psalm 90, which is the responsorial Psalm for the 28th Sunday in Ordinary Time Year B . It praises God who is eternal and asks for the grace that we use our days wisely.
Social Media Quote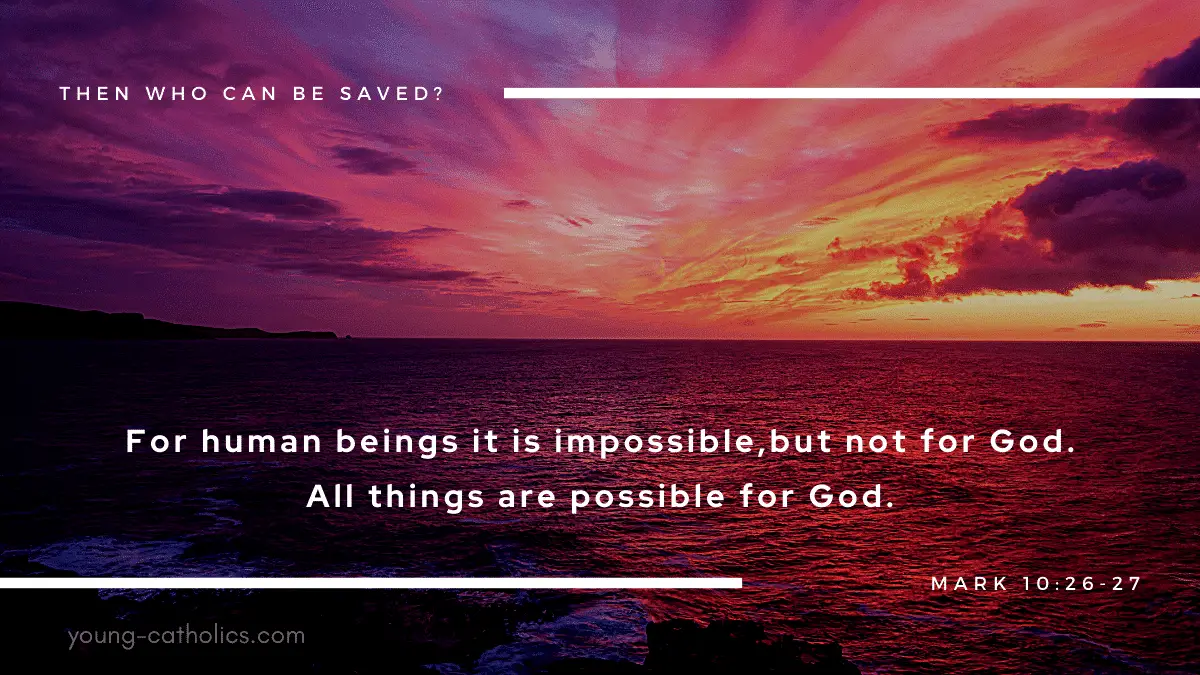 They were exceedingly astonished and said among themselves, "Then who can be saved?" Jesus looked at them and said, "For human beings it is impossible, but not for God. All things are possible for God."
Homilies and Background Material
This article gives background material on the causes and dangers of being obsessed with things.
This article from USCCB provides a framework for understanding how income inequality can cause serious issues between people and between nations.
Video on Detachment
Having things is not the problem. The issue is when you are too attached to them.
This podcast from Bishop Robert Barron explains how the first reading and the Gospel work together to explain the spiritual physics of wealth.
Wealth can become our master. Instead of serving us, we end up serving it.
We are sorry that this post was not useful for you!
Let us improve this post!
Tell us how we can improve this post?