About the 31st Sunday in Ordinary Time Year B
November 3, 2024
The readings for the 31st Sunday in Ordinary Time Year B help us think of God's commandments and if we are following them just in our heads or also in our hearts. In the first reading Moses tells the people to love God above all else. The second reading Paul tells us that the priesthood of Jesus is eternal. And in the gospel, Jesus commends the man who accepted the Great Commandment.
Daily Mass Readings for the 31st Sunday in Ordinary Time Year B
Themes for the Gospel for the 31st Sunday in Ordinary Time Year B
The Ten Commandments
The call to love
Loyalty
Different types of love
Church laws (Magisterium)
See the bottom of this post for extended ideas related to these themes.
Sponsored
See real ways to love your neighbor
More Resources for the 31st Sunday in Ordinary Time Year B
This lesson plan asks youth to consider the Greatest Commandment and how that can help us see the rules in our lives in a different light.
This prayer is based on Psalm 18, which is the Responsorial Psalm for this Sunday. It praises God for his strength and his law which keep us safe.
In this game you have to state if you love your neighbor or someone else. And then you have to find your place!
Social Media Graphic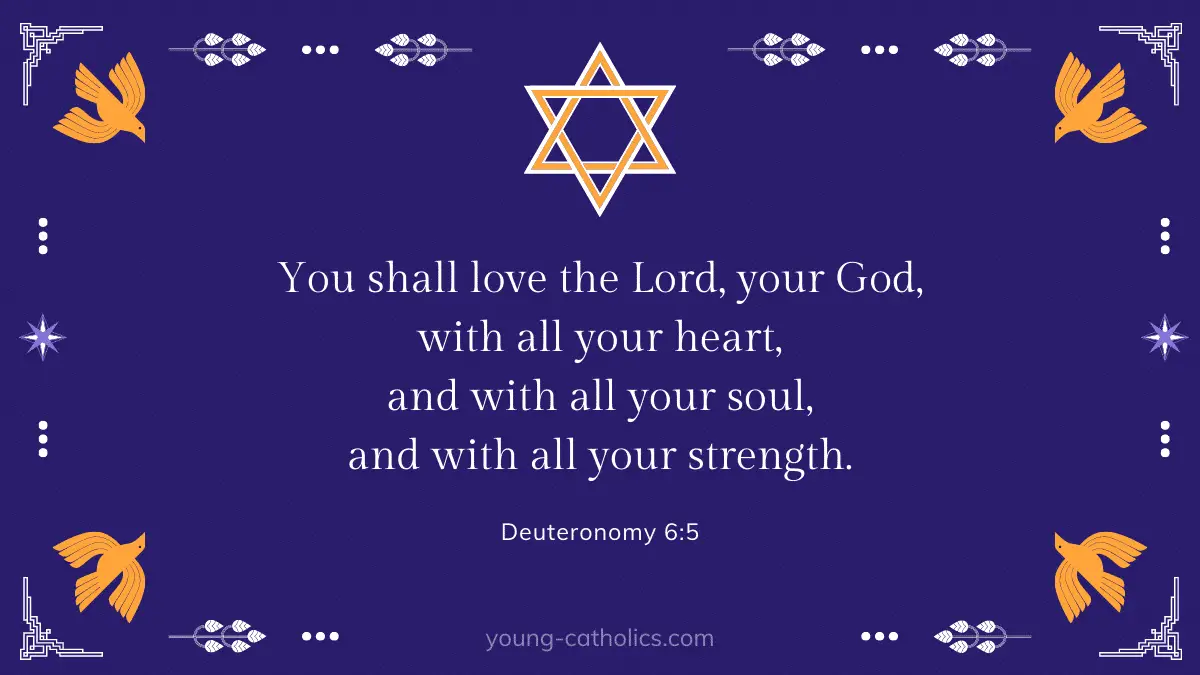 This is a graphic of the Shema Yisrael from Deuteronomy. Click on it for a full size image.
The commandment spoken of this Sunday is known as the Shema Yisra'el. Learn more about this Jewish prayer.
How does God give us law and help us know right from wrong?
Other Themes for the 31st Sunday in Ordinary Time Year B
In the Old Testament, love is shown through loyalty. Although God's people are not always faithful, God never abandons us. The love expressed in the Great Commandment is meant to be a love of fidelity. Jesus and the Father share this type of love in a perfect way. We must strive to be faithful to God and our neighbor.
The comment of Jesus to the scribe – "You are not far from the Kingdom of God" – indicates that this sort of love is an important aspect of God's Kingdom. In order for the Kingdom to flourish, we must see this type of love in Jesus and then allow our own lives to be changed by it.
For Jesus, this faithful love is what matters in his message. He could have emphasized other aspects of the divine, such as wisdom or power. But he is focused on this steadfast type of love. This is the love which God has for us and calls us to show for one another.
Questions for the 31st Sunday in Ordinary Time Year B
Where do my loyalties lie?
How to I use my mind and my strength throughout the day?
What distracts me from loving and serving God?
Am I more firmly planted in the Kingdom of God or in this world?
We are sorry that this post was not useful for you!
Let us improve this post!
Tell us how we can improve this post?