About the Immaculate Conception
Feast Day: December 8
December 8 is the Solemnity of the Immaculate Conception of the Blessed Virgin Mary. This holy day is often misunderstood. It celebrates the conception of Mary, not Jesus. The Catholic Church teaches that through the grace of God, Mary was conceived without the stain of original sin, thus making her a worthy vessel for the Son of God.
The Immaculate Conception of the Blessed Virgin Mary
The readings (see below) show how Mary's fiat ("Let it be") was an integral part of God's plan for the salvation of the world.
Patron Saint of …
She is the patroness of the United States.
Mass Readings for the Solemnity of the Immaculate Conception:
Quotes and Social Media Graphics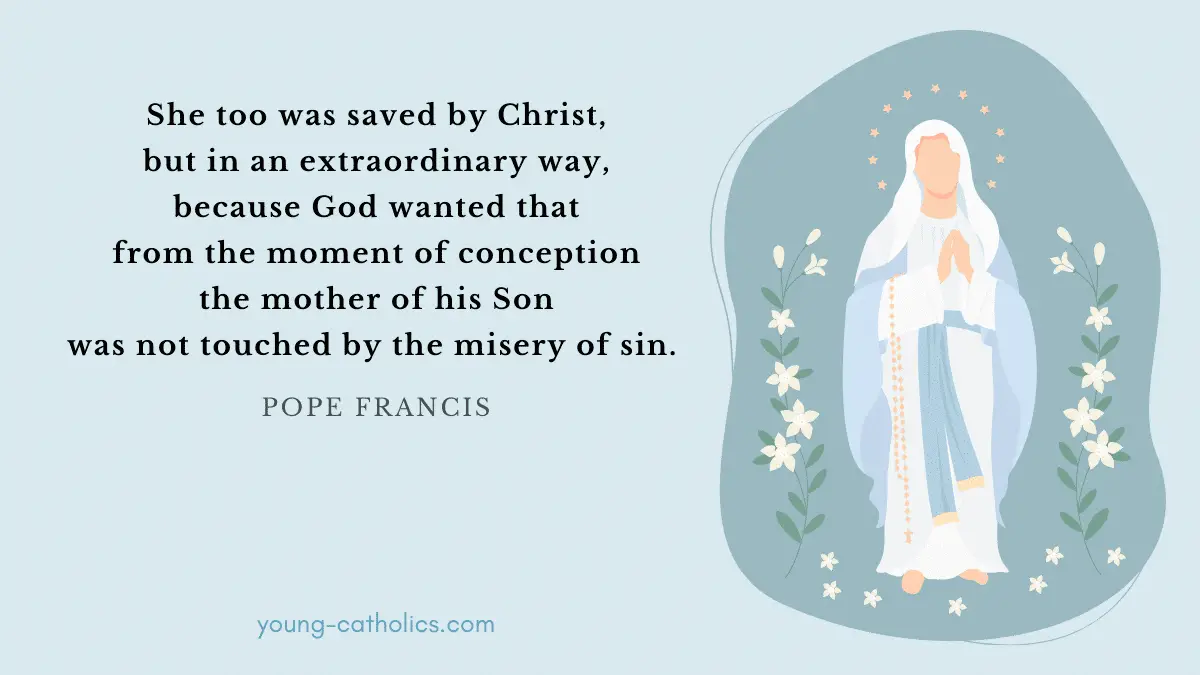 You are free to share with a reference to young-catholics.com . Click on the image to download full size.
For me, the Immaculate Conception is the feast of 'passive action,' the action that functions simply by the transmission through us of divine energy. Purity, in spite of outward appearances, is essentially an active virtue, because it concentrates God in us and on those who are subject to our influence.

Pierre Teilhard de Chardin
In her humility, Mary she knows she receives everything from God. Therefore, free from herself, she is completely turned toward God and others. Mary Immaculate does not look on herself. This is true humility: not looking on oneself, but looking toward God and others.

Pope Francis
To become the mother of the Saviour, Mary "was enriched by God with gifts appropriate to such a role." The angel Gabriel at the moment of the annunciation salutes her as "full of grace". In fact, in order for Mary to be able to give the free assent of her faith to the announcement of her vocation, it was necessary that she be wholly borne by God's grace.

Through the centuries the Church has become ever more aware that Mary, "full of grace" through God, was redeemed from the moment of her conception. That is what the dogma of the Immaculate Conception confesses, as Pope Pius IX proclaimed in 1854:

The most Blessed Virgin Mary was, from the first moment of her conception, by a singular grace and privilege of almighty God and by virtue of the merits of Jesus Christ, Saviour of the human race, preserved immune from all stain of original sin.

Catechism of the Catholic Church: 490-491
More resources
Why do Catholics pray to Mary and the saints? This lesson plan will help youth understand that it is like asking a friend to pray for you. And it points out that prayer is not the same as worship.
Our Lady of Lourdes is a title given to the Blessed Virgin Mary in honor of her apparitions to St. Bernadette in Lourdes France.
Like this: