Divine Mercy Sunday Year A (2nd Sunday of Easter)
Sunday April 16, 2023
Mass Readings for Divine Mercy Sunday Year A
Themes for Divine Mercy Sunday Year A
The readings for Divine Mercy Sunday (2nd Sunday of Easter) for Year A help us reflect on the boundless mercy of God. The first reading tells how the early Christian community lived in peace, sharing with each other. The psalm reminds us that God's love is eternal. The second reading speaks of having faith in the resurrection. And in the gospel Jesus shows mercy to Thomas, even in his doubts
The loving mercy of Jesus
Letting go of our doubts
Belief in eternal life
Revealing the identity of Jesus
See the Homilies and Reflections section and the More Thoughts section for further expansion on these readings and some reflection questions for Divine Mercy Sunday Year A.
Sponsored

Death does not have the final word
Resources for Divine Mercy Sunday Year A
The Divine Mercy Chaplet is a devotion which reminds us that God is merciful and that we too must show mercy. We pray for mercy for ourselves and the whole world.
St. Faustina is known for her diary and for promoting devotion to Jesus as the King of Mercy which is particularly done by praying the Divine Mercy Chaplet.
This reflection will help youth think about what it means to believe in something which can't be seen. How do we know it is real?
Homilies and Reflections for Divine Mercy Sunday Year A
In this homily from Bishop Robert Barron, we learn that Jesus has come to bring us the divine life. Under his influence we become peaceful, unafraid, evangelizing, and forgiving. Through the Church, saints are made. This is because Christ is at the very center of the Church.
Locked away in the dark, they were confused, ashamed, and afraid. All the disciples could do was hide, hope that they could escape the wrath of the Jews, and perhaps, one day, live a semblance of a normal life again. When the Risen Lord first appeared to them, He didn't even give them time to consider that perhaps He was disappointed in them.
Jeff Cavins offers insights on the readings for the 2nd Sunday of Easter, Divine Mercy Sunday Year A. By mercy we mean God's love and grace meeting our suffering and difficulty.
Scott Hahn explains that in the Mass, God's mercy endures forever, as we sing in today's Psalm. This is the day the Lord has made—when the victory of Easter is again made wonderful in our eyes.
More Thoughts for Divine Mercy Sunday Year A
Thomas didn't believe what the other disciples were telling him. He didn't think it could be true. Maybe it was a trick or an imposter. Thomas wanted to see the wounds and make sure they were real. And that is exactly what Jesus does for him. For even after the resurrection, Jesus still has his scars.
As Christians, we also have scars. Being a disciple doesn't eliminate them. Some of the scars may be physical. We might have dry hands from scrubbing the pots and pans at the soup kitchen. Others might be more emotional. We know that even after we forgive someone, we may carry the wounds they caused in our hearts.
Being a disciple has lasting effects. Like Jesus, we must be willing to live with a few wounds. When we feel it is too much, we can turn to him and know he understands.
Reflection Questions for Divine Mercy Sunday Year A
What scars do I have from being a disciple?
How can I help others in my community who are wounded?
Am I holding back mercy for fear of scars?
Quotes and Social Media Graphics for Divine Mercy Sunday Year A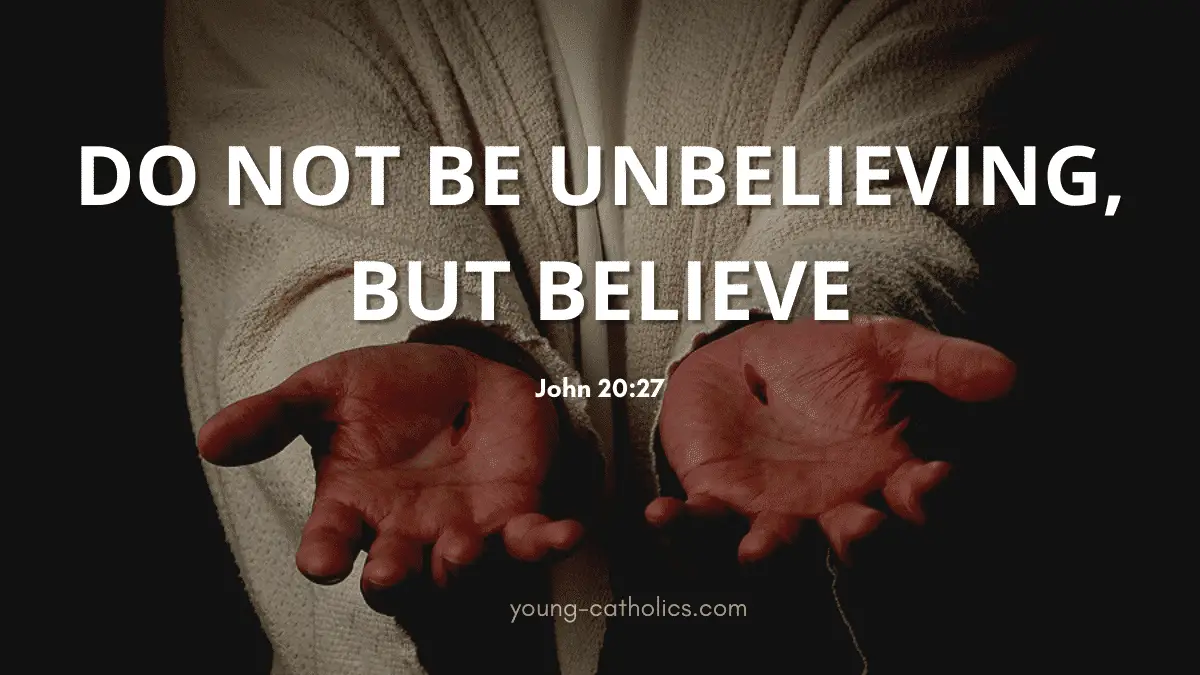 Then he said to Thomas, "Put your finger here and see my hands, and bring your hand and put it into my side, and do not be unbelieving, but believe."

John 20:27
Frequently Asked Questions
We are sorry that this post was not useful for you!
Let us improve this post!
Tell us how we can improve this post?