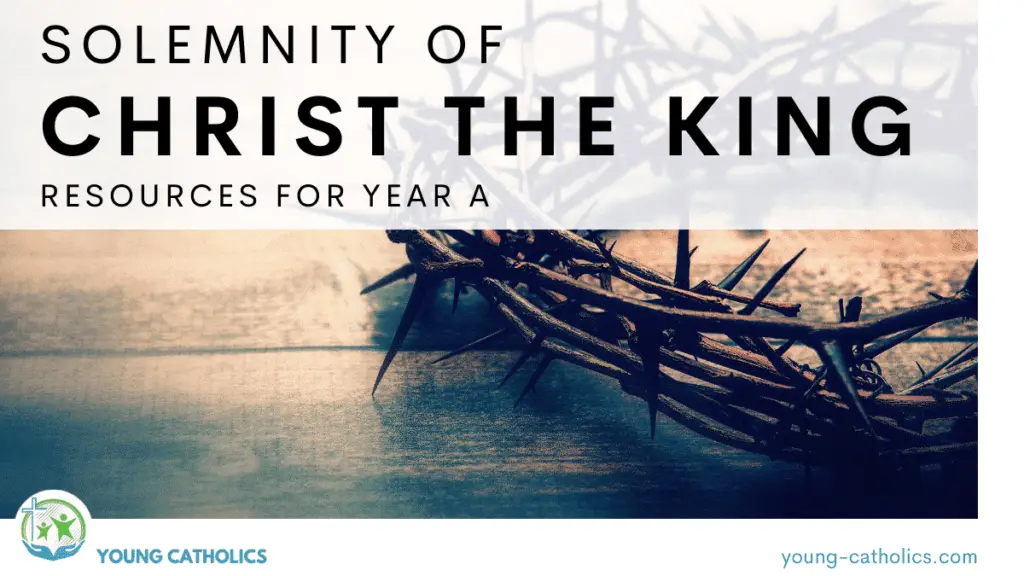 About the Solemnity of Christ the King Year A
Sunday, November 26, 2023
The readings for the Solemnity of Christ the King Year A tell us that the kingship of Christ is one of a caring master who longs for us to live together in harmony in his kingdom. The first reading tells of the Lord gathering in his flock and tending to them. The second reading reminds us that everything is subject to Jesus Christ, including death. And in the gospel Jesus tells of the Judgement of the Nations, where those who served him in this life are separated from those who did not.
Solemnity of Christ the King Year A
Sunday, November 26, 2023
Resources
Mass Readings for the Solemnity of Our Lord Jesus Christ, King of the Universe Year A
The Solemnity of Christ the King Year A would be a good Sunday to focus on the corporal works of mercy and justice for the marginalized in our society. Here are some ideas:
This reflection encourages youth to consider how they are taking care of those in need and helps them learn about the corporal works of mercy. This lesson fits in well with the gospel for the Solemnity of Christ the King Year A.
The goal of this kingdoms game is to form kingdoms. The largest kingdom wins! All you need are materials to make a list so it is super easy. This could be used as a youth group game or even a middle school VBS game.
The gospels show us that Jesus reached out to those in need. His life is a model for how we should interact with others. One way to do this is through the Corporal Works of Mercy. Consider looking at these and doing one with the Catholic youth in your life.
Or maybe it should be called "Uncrown the King" because the goal is to knock off other player's crowns and keep your own. This is an active game, so it is best played outdoors, in a gym, or in a meeting room with some open space.
Then the righteous will answer him and say, 'Lord, when did we see you hungry and feed you, or thirsty and give you drink? When did we see you a stranger and welcome you, or naked and clothe you? When did we see you ill or in prison, and visit you?' And the king will say to them in reply, 'Amen, I say to you, whatever you did for one of the least brothers of mine, you did for me.'
This lesson plan will help youth consider how they can be more committed to serving Christ the King.
This can also be prayed as a novena. Start it two Saturdays before this solemnity to end on the Feast of Christ the King.
We are sorry that this post was not useful for you!
Let us improve this post!
Tell us how we can improve this post?