Mass Readings for the Palm Sunday Year B
Themes for the Mass Readings for Palm Sunday Year B
The readings for Palm Sunday Year B (Passion Sunday) focus the sacrifice which Jesus Christ made for me and you. The reading for the procession of the palms tells of Jesus' triumphant entry into Jerusalem. The first reading from Isaiah foretells Jesus' suffering. The psalm sings "My God, my God, why have you abandoned me?", which is the Psalm Jesus prayed from the cross. The second reading from Philippians speaks of the how Jesus Christ is our Lord and Savior. And in the gospel we hear how Jesus first celebrated the Passover, and then became the sacrificial lamb for us.
The sacrifice of Jesus
Humility
True leadership
See the Homilies and Reflections section and the More Thoughts section for further expansion on these readings and some reflection questions for Palm Sunday Year B.
Resources for Palm Sunday Year B
This prayer is based on Psalm 22, which is the responsorial psalm for Palm Sunday Year B. It is a prayer for when we feel like God is nowhere to be found. Psalm 22 is the psalm Jesus prayed from the cross when he quoted "Eli, Eli, lama sabachthani? My God, my God, why hast thou forsaken me?"
Reflect on the sentencing of Jesus. It works well if one person reads the scripture and another reads the meditation. It includes a set of questions for small group discussion.
We are all familiar with the Passion story. We hear it every year on Palm Sunday and on Good Friday. But when we read it at Mass, we read it at the same pace as the whole congregation. So try reading it prayerfully on your own.
Lenten Ideas for Palm Sunday Year B
The Jelly Bean Prayer is a fun Easter prayer for your family or youth ministry. Make up some jars of jelly beans to give away with the prayer during the Octave of Easter. Put them on display for the rest of Lent to remember that we are walking this Lenten journey with the hope of celebrating the resurrection of our Lord on Easter.
Good Friday is the Friday before Easter. On Good Friday, Catholics commemorate the crucifixion of Jesus Christ, who died to redeem us. There is no mass on Good Friday, but your local parish will hold a liturgy to remember this tremendous act of love. Attend them with your family.
The Mass of the Lord's Supper commemorates the last supper of Jesus Christ with his disciples, when the institution of the priesthood and the Eucharist took place. Holy Thursday is not a holy day of obligation, but you should consider attending with your whole family.
This printable cryptogram is a fun way to introduce youth to the vocabulary for Lent and Triduum. Each word is encrypted and definitions are given. Youth must consider the definition and then decrypt the word.
Catholics are required to fast on Ash Wednesday and Good Friday. Adding another day of fasting is a way of practicing an additional sacrifice during Lent. You can decide to fast one day per week. (Friday would be a traditional.)
Christ went to pray at the Garden of Gethsemane. It is a prayer of total surrender to the Father's will. So as a Lenten activity, go to a garden and think about the Garden of Gethsemane.
Homilies and Reflections for Palm Sunday Year B
In this reflection for Palm Sunday Year B, Jeff Cavins shows us how Jesus' entrance into Jerusalem was the beginning of his entering into a new covenant with humanity.
What does the cross mean? Jesus chose to be beaten, humiliated, and killed for us. When you wear that cross on your neck or make the sign of the cross, really think about what that means. This goes well with the passion reading for Palm Sunday Year B.
From Bishop Robert Barron. One of the best known stories in Western culture is the narrative of Christ's Passion and death. However, this very familiarity can block our understanding of the account. What I want to do in this homily is to draw your attention to three odd details of Mark's Gospel, each of which packs a punch spiritually.
From Scott Hahn. Crowned with thorns, our Lord is lifted up on the Cross, where He dies as "King of the Jews." Notice how many times He is called "king" in today's Gospel—mostly in scorn and mockery. As we hear the long accounts of His Passion, at every turn we must remind ourselves—He suffered this cruel and unusual violence for us.
Also from Bishop Barron. Entering Holy Week, we see numerous stirring examples of Jesus' fulfillment of Old Testament prophecies. From the direction he enters Jerusalem to his mode of transport, we find again and again how he is the one intended to reclaim the temple and prove to the world that he is indeed the son of God, chosen to save us through his revolutionary example of love and forgiveness.
More Thoughts for the Palm Sunday Year B
Jesus suffered and died despite his divinity. It was within his power to get away. He would not have even had to do something spectacular. He could have just quietly slipped away instead of staying to pray in the garden of Gethsemane.
But Jesus often turned to prayer throughout his ministry. He entrusted all that he was into the care of the Father. He was completely obedient. His friends abandoned him, which must have been a cruel blow. But even as he hung suffering on the cross, he prayed the psalms.
As disciples of Jesus we are also called to trust in God completely. In good times and in bad. We must believe that God loves us and will transform the deaths we experience into new life.
Reflection Questions for Palm Sunday Year B
Do I turn to prayer first when I face suffering in my life?
Do I really trust that God loves me?
What can I do to deepen my trust in God?
Quotes and Social Media Graphics for the Palm Sunday Year B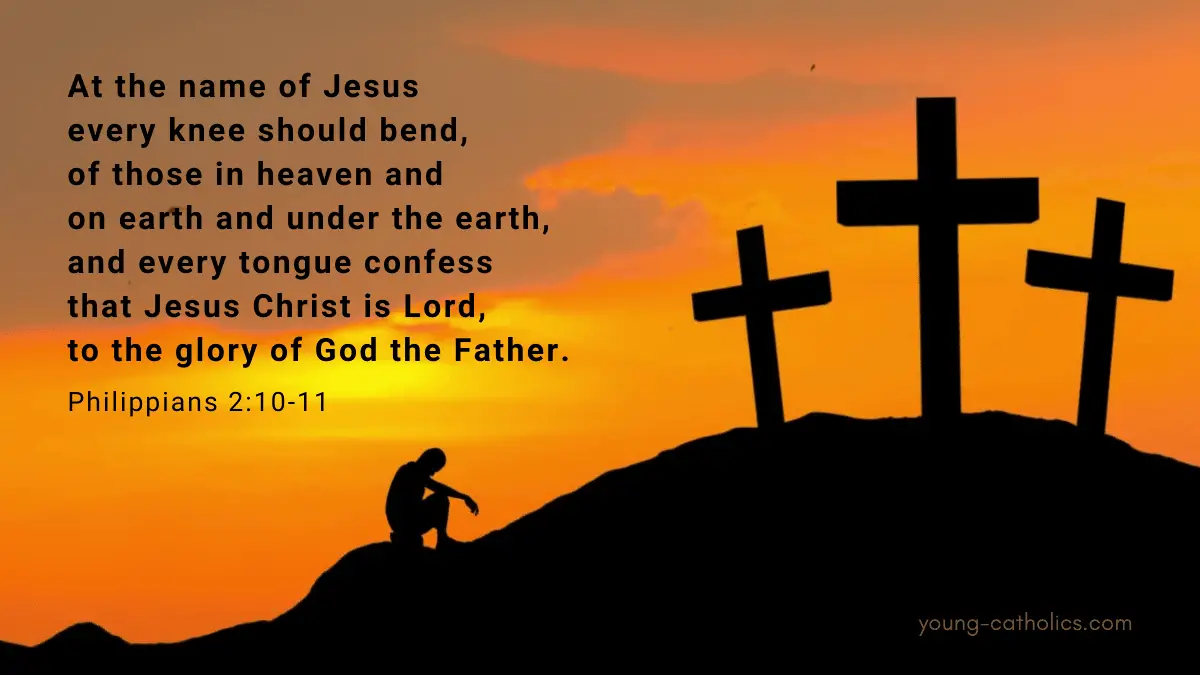 Because of this, God greatly exalted him and bestowed on him the name which is above every name, that at the name of Jesus every knee should bend, of those in heaven and on earth and under the earth, and every tongue confess that Jesus Christ is Lord, to the glory of God the Father.
Frequently Asked Questions
Like this: