Mass Readings for the Palm Sunday Year C
Themes for the Mass Readings for Palm Sunday Year C
The readings for Palm Sunday Year C (Passion Sunday) tell of the death of Jesus Christ, who showed us the true meaning of love and the nature of God. The reading for the procession of the palms recounts how Jesus was greeted by crowds while entering Jerusalem. The first reading tells how we will be saved by a servant. The psalm was quoted by Jesus from the cross. The second reading speaks of the how Jesus was obedient to the Father. And in the gospel we remember how Jesus suffered and died for each of us, so that we could know life.
Taking the difficult path
Suffering
Jesus as king of our lives
Being fickle
See the Homilies and Reflections section and the More Thoughts section for further expansion on these readings and some reflection questions for Palm Sunday Year C.
Resources for Palm Sunday Year C
This prayer is based on Psalm 22, which is the responsorial psalm for Palm Sunday Year C. It is a prayer for when we feel like God is nowhere to be found. Psalm 22 is the psalm Jesus prayed from the cross when he quoted "Eli, Eli, lama sabachthani? My God, my God, why hast thou forsaken me?"
This printable cryptogram is a fun way to introduce youth to the vocabulary for Lent and Triduum. Each word is encrypted and definitions are given. Youth must consider the definition and then decrypt the word.
Reflect on the sentencing of Jesus. It works well if one person reads the scripture and another reads the meditation. It includes a set of questions for small group discussion.
The Mass of the Lord's Supper commemorates the last supper of Jesus Christ with his disciples, when the institution of the priesthood and the Eucharist took place. Holy Thursday is not a holy day of obligation, but you should consider attending with your whole family.
Good Friday is the Friday before Easter. On Good Friday, Catholics commemorate the crucifixion of Jesus Christ, who died to redeem us. There is no mass on Good Friday, but your local parish will hold a liturgy to remember this tremendous act of love. Attend them with your family.
We are all familiar with the Passion story. We hear it every year on Palm Sunday and on Good Friday. But when we read it at Mass, we read it at the same pace as the whole congregation. So try reading it prayerfully on your own.
Lenten Ideas for Palm Sunday Year C
Service projects are a type of almsgiving during Lent. One popular project with teens and younger children is yardwork for the elderly. There might be some leaves left from the fall. Or fallen branches from winter storms. Or just some spring cleanup needed. An elderly neighbor will appreciate any help you can give.
The Jelly Bean Prayer is a fun Easter prayer for your family or youth ministry. Make up some jars of jelly beans to give away with the prayer during the Octave of Easter. Put them on display for the rest of Lent to remember that we are walking this Lenten journey with the hope of celebrating the resurrection of our Lord on Easter.
See specific ideas for practicing prayer, fasting, and almsgiving during the Lenten season.
Homilies and Reflections for Palm Sunday Year C
In our Gospel reading for the Palm Sunday procession, Jesus sends his disciples into Jerusalem to prepare for his triumphal entry. They are told to untether a donkey, and if there is any protest from the owner, they are to say simply, "The Master has need of it." Strictly speaking, God has need of nothing, since he is the unconditioned act of existence. Read the rest of Bishop Robert Barron's homily for Palm Sunday Year C.
The readings for Palm Sunday Year C show us that destined to sin and death as children of Adam's disobedience, we have been set free for holiness and life by Christ's perfect obedience to the Father's will.
Bishop Robert Barron offers his reflections on Palm Sunday and why the Kingship of Christ matters.
What does the cross mean? Jesus chose to be beaten, humiliated, and killed for us. When you wear that cross on your neck or make the sign of the cross, really think about what that means. This goes well with the passion reading for Palm Sunday Year C.
More Thoughts for the Palm Sunday Year C
We all know that death is coming sooner or later. We are dust and to dust we shall return. Eventually we will end our earthly existence and no longer be remembered. It is said that your true death comes the last time your name is spoken.
But the death of Jesus offers us hope. For death cannot destroy what already belongs to God. By completely entrusting ourselves to our loving Father, as he did, we can cheat death.
But this is hard. We cling to the things of this world, only partially trusting in God. We hedge our bets. The people in the passion, whose voice we assume, are divided. While some support Jesus, others follow the direction of their religious leaders. Peter believes he will be faithful, but his worldly fear gets the better of him and he denies our Lord. The two criminals are a stark example of the conflict between the worldly and the spiritual.
But Jesus never waivers. He sets his face toward Jerusalem, where he knows death awaits, and he doesn't turn back. He could have escaped in the garden in Gethsemane, but he remains steadfast in his obedience. Even from the cross he speaks of paradise.
Reflection Questions for Palm Sunday Year C
What are some things of this world which hold my loyalty?
Is there an area in my life which I need to more fully entrust to God?
Why do I cling to fear and slavery to the material world?
Quotes and Social Media Graphics for the Palm Sunday Year C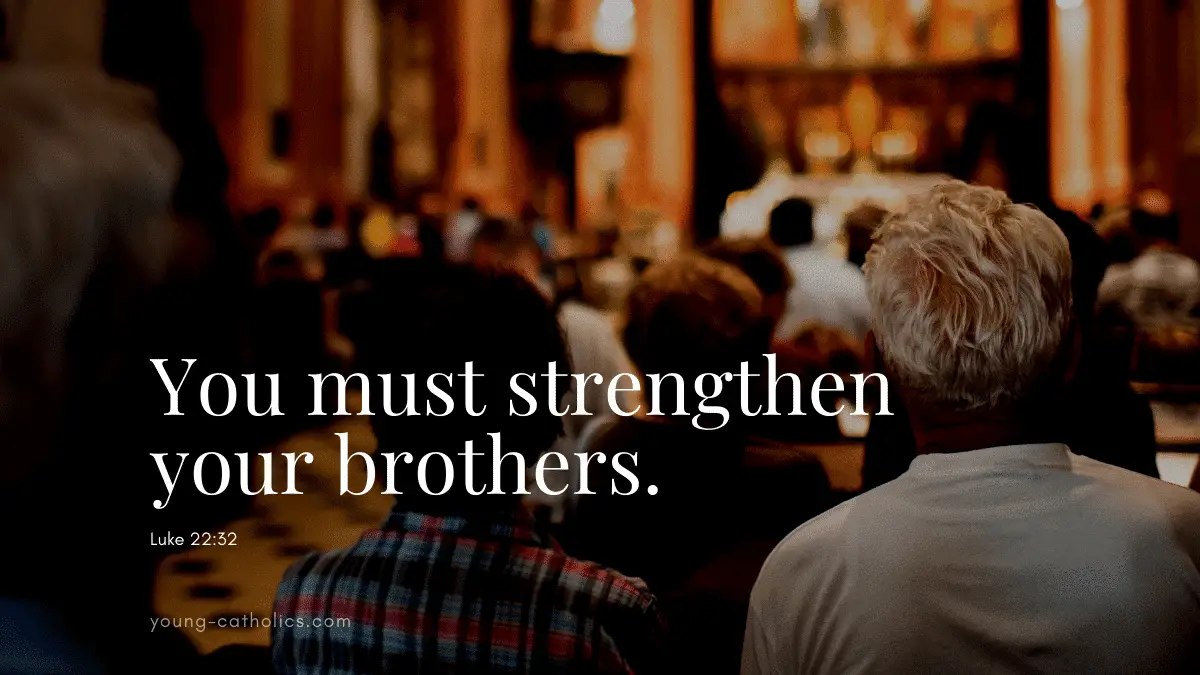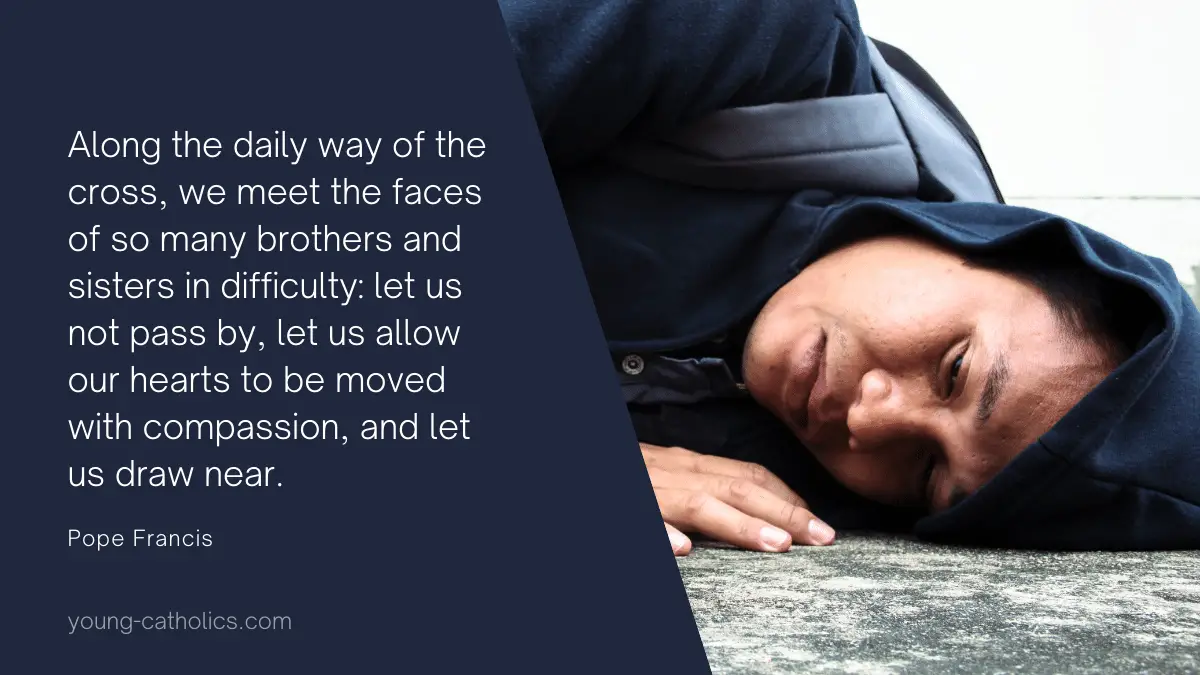 Frequently Asked Questions
We are sorry that this post was not useful for you!
Let us improve this post!
Tell us how we can improve this post?