19th Sunday in Ordinary Time Year B
Sunday August 11, 2024
Mass Readings for the 19th Sunday in Ordinary Time Year B
Themes for the 19th Sunday in Ordinary Time Year B
The readings for the 19th Sunday in Ordinary Time Year B demonstrate that God sustains us. In the first reading Elijah wants to give up, but the Lord gives him strength to continue. And in the gospel, people are doubting Jesus, but he declares that he is the bread of life.
The Eucharist
Not giving up
Receiving strength from God
See the Homilies and Reflections section and the More Thoughts section for further expansion on these readings and some reflection questions for the 19th Sunday in Ordinary Time Year B.
Sponsored

Learn more about the Eucharist
Resources for the 19th Sunday in Ordinary Time Year B
Psalm 34, the responsorial psalm for the 19th Sunday in Ordinary Time Year B, is a prayer of thanksgiving which David prayed when God delivered him from his enemies. This prayer based on Psalm 34 expresses this same sentiment. God delivers those who are weak and broken and powerless
This lesson plan on the authority of Jesus will help youth consider what it means to be taught by God. And how does that impact our view of the Eucharist?
Everyone knows how to play Simon Says. This game is Simon Says with a twist!
Homilies and Reflections for the 19th Sunday in Ordinary Time Year B
From Bishop Robert Barron. We've all hit points in which we felt we could not go on spiritually, physically, or mentally. In the Gospel today, Christ declares himself the bread that has come down from heaven. If you want to live in the eternal realm, you must eat food that sustains forever.
This week's Encountering the Word video for the 19th Sunday in Ordinary Time Year B focuses on the Bread of Life discourse found in John 6. What if Jesus' words and the Church teaching on the Eucharist are true? What if that really is God? Jeff Cavins encourages us to reflect on the simplicity of Christ's words in this week's Gospel.
From Scott Hahn. Let us say to God as Elijah did, "Take my life." Not in the sense of wanting to die but in giving ourselves as a sacrificial offering—loving Him as He has loved us, on the Cross and in the Eucharist.
Also from Bishop Barron. We're all acquainted with the need for physical food, like Elijah, but we also need spiritual food. If we don't feed our souls, we will become spiritually lethargic and unhealthy. Where do we find that nourishment? The answer comes in John 6, our Gospel reading for today.
More Thoughts for the 19th Sunday in Ordinary Time Year B
In the first reading, Elijah is in the wilderness, seeking safety from the powers of the day, who were promoting idolatry. Elijah has come to the end of his strength and cries out to the Lord, wishing to die. Instead, God sends an angel who tells Elijah not to give up and provides nourishment for strength. Elijah must care for himself so he can do the work of the Lord.
The second reading calls us to be imitators of God. We must seek to be holy, as God is holy. We must be able to sacrifice and love. That way others will encounter Christ through their interactions with us.
By his love, Jesus shows us that he alone can sustain us. When we try to satisfy our needs on our own, we still need more. The satisfaction is only temporary. The love of Jesus gives us hope and strength for the journey.
Only in Jesus can we find life. He is the Bread of Life and give us his flesh to sustain us. Many people who had been following him found this teaching too difficult and left him after this discourse. He is preparing them for the gift of the Eucharist, which some cannot accept.
Reflection Questions for the 19th Sunday in Ordinary Time Year B
Can I think of a time when God truly sustained me?
How have I imitated God recently?
How does the Eucharist give me strength for my journey of discipleship?
Quotes and Social Media Graphics for the 19th Sunday in Ordinary Time Year B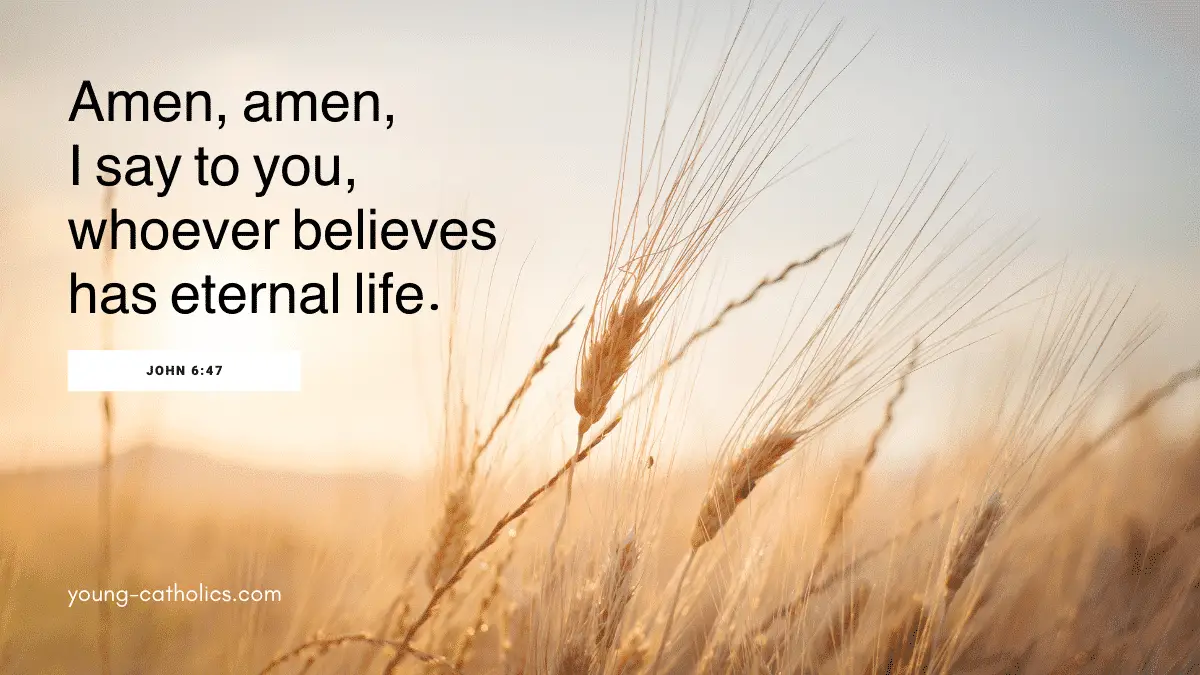 Amen, amen, I say to you, whoever believes has eternal life. I am the bread of life. Your ancestors ate the manna in the desert, but they died; this is the bread that comes down from heaven so that one may eat it and not die.
Frequently Asked Questions
Like this: