About the 23rd Sunday in Ordinary Time
September 8, 2024
The readings for the 23rd Sunday in Ordinary Time Year B help us understand that God is faithful and merciful. In the first reading we hear that God saves us and brings us new life. The second reading tells us that God is impartial and loves all of his children. And in the gospel, Jesus cures a deaf man.
These readings bring to mind several questions. Do we truly believe that God loves each of us with impartiality? Do we try to love as God does? And are we ready to have our ears opened to listen to what God is telling us?
Daily Mass Readings for the 23rd Sunday in Ordinary Time Year B
Sponsored
Learn how to help others
Free Resources for Youth Ministry or Religious Ed
This lesson plan goes with the gospel reading for the 23rd Sunday in Ordinary Time Year B. Do we suffer from spiritual deafness? Are we able to hear what God is speaking to us?
This prayer of trust in God is based on Psalm 146, the responsorial psalm for this Sunday. It speaks of depending on God about all other things.
This game can lead into a discussion about listening and communicating. How well do we hear the Word of God and are we able to pass it on?
Social Media Graphic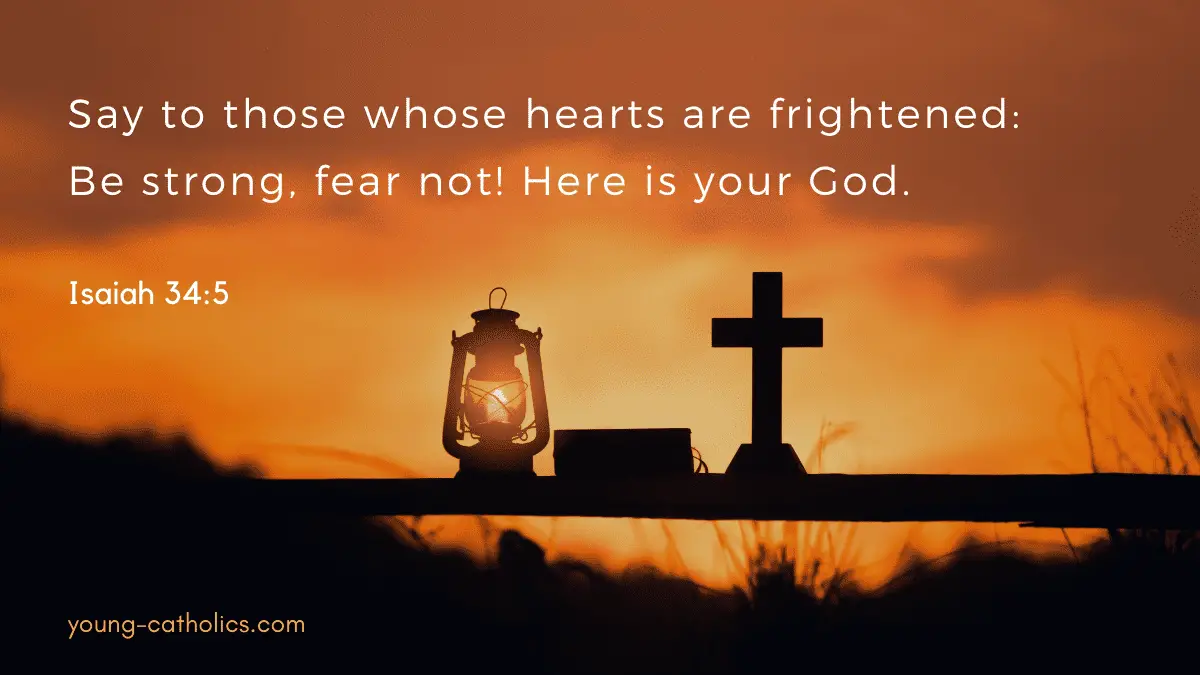 "Be strong, fear not! Here is your God, he comes with vindication; with divine recompense he comes to save you." This quote from Isaiah is in the first reading for the 23rd Sunday in Ordinary Time Year B.
Fox and Chickens tag is a variation on tag where the people at the front of the line try to protect the last person. This game could be used for a social justice theme about protecting the marginalized.
Homilies and Background Material
This homily from Bishop Barron for the 23rd Sunday in Ordinary Time Year B focuses on how we can be deaf to the Word of God. We need Jesus to do this for us also!
Do you listen to the voices of the outside world instead of hearing our Lord speaking? Ask Jesus to open your ears to His voice.
Opening the Mind
Also from Bishop Barron, from a talk he gave at Google on the subject of religion and opening the mind and the will.
This reflection from Scott Hahn directs the listener's attention to the phrase "He has done all things well." Jesus goes beyond what is on the surface and makes all things new.
We all have ears, but very often we cannot hear. There is, in fact, an interior deafness worse than the physical one: the deafness of the heart that we can ask Jesus to touch and heal today.

Pope Francis
More thoughts on the gospel for the 23rd Sunday in Ordinary Time Year B
We all suffer from spiritual deafness at one time or another. It is not necessarily that we can't hear. Sometimes we don't want to hear. Just as we don't want to listen to a person who has a different opinion on some subject, we also don't want to listen to God.
But Jesus does all things well. He can heal us just as surely as he healed the deaf man. We need to give him the time and the opportunity though. That could mean spending more time in prayer. And possibly spending that prayer time listening, instead of just asking for our needs.
One thing is sure. Jesus will heal us of our spiritual deafness if we humbly ask him to.
We are sorry that this post was not useful for you!
Let us improve this post!
Tell us how we can improve this post?