About the 29th Sunday in Ordinary Time Year B
October 20, 2024
The readings for the Twenty-Ninth Sunday in Ordinary Time for Year B speak of the cost of discipleship. The first reading foretells of Jesus' sacrifice for us. The second reading reminds us that Jesus understands our weaknesses. And in the gospel, Jesus warns his disciples that it will be difficult to follow him and they must develop servants' hearts.
Daily Mass Readings for the 29th Sunday in Ordinary Time Year B
Themes
Humility
Sacrifice
Mercy
Authority
Leadership
Sponsored
Learn to be a Servant Leader
Resources for the 29th Sunday in Ordinary Time Year B
This reflection and small group questions will help youth understand that Jesus is asking us to be a different type of leader.
This prayer is based on Psalm 33, which is the responsorial psalm for this Sunday.
Jesus is asking us to be humble servants. This prayer asks for the grace to serve with humility.
Social Media Graphic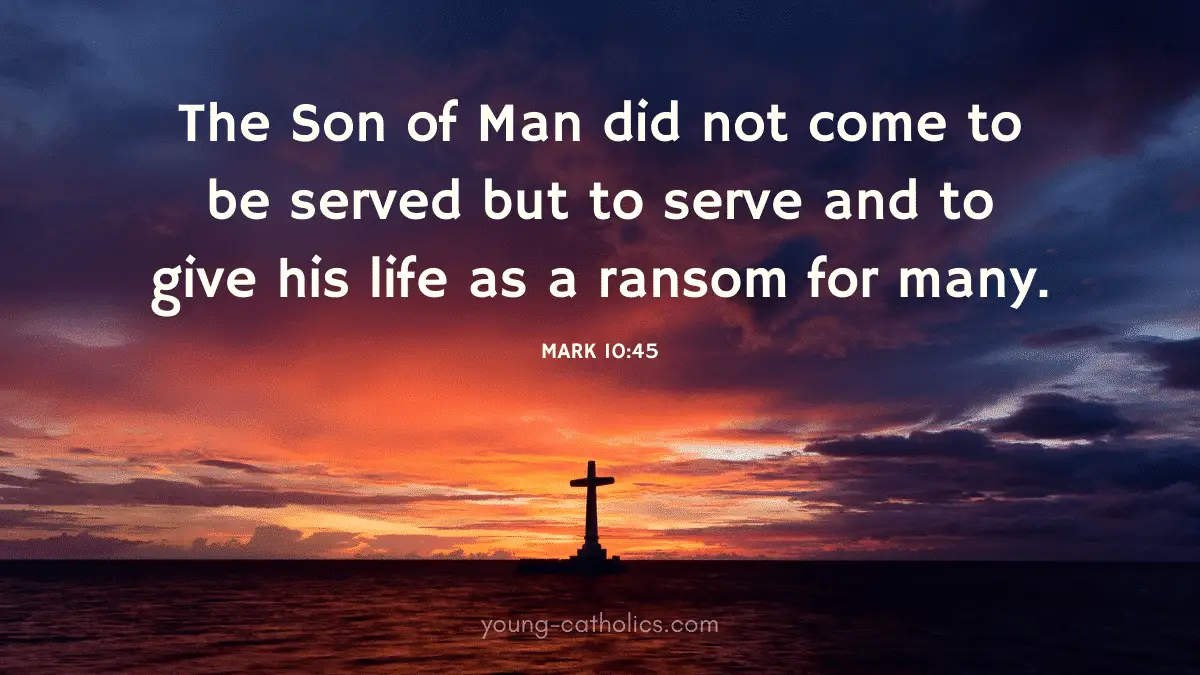 "For the Son of Man did not come to be served but to serve and to give his life as a ransom for many."

Mark 10:45
Jesus asks us to immerse ourselves compassionately in the lives of those we meet as He has done with us. God is love and love is humble, it does not exalt itself, but descends like the rain that falls to the earth and brings life.

Pope Francis
Homilies and Background Material for the 29th Sunday in Ordinary Time Year B
Fr. Richard Rohr explains that Jesus wanted to show a different type of leadership, where those at the bottom and on the outside matter.
Bishop Robert Barron explains the readings for this day in terms of collective consciousness instead of individualism.
Servant leadership is radically different than the leadership we typically see. Servant leadership does not necessarily give immediate satisfaction, but it does promote justice in the long term.
The Primary Mission of a Leader
A leader must help the people he or she is leading.
Additional Themes and Thoughts for the 29th Sunday in Ordinary Time Year B
God is the source of all authority. Any authority we hold is given to us by God and is to be used for the building of the Kingdom. In the history of Israel we see that when they strayed, God took away their authority and made foreign kings rulers over them. They longed for a restoration and a ruler who would make the kingdom of Israel thrive.
But Jesus was not the Messiah they expected. He did not wield authority as the kings of the past had. Instead he was humble and demonstrated that service was a mark of leadership. So when James and John are seeking worldly authority, he corrects them and explains how leaders must act in the Kingdom of God.
Our accomplishments and credentials may impress other people. But any authority we have is a gift from God. So, like Jesus, we must use it to do the Father's will.
It is interesting that a few verses later, Jesus asks the blind Bartimaeus the same question he asked James and John. "What do you want me to do for you?" James and John respond with a request for honor. Bartimaeus asks to see. So this is a good opportunity for us to think about how we would answer that question from Jesus.
Questions for the 29th Sunday in Ordinary Time Year B
How to I respond when Jesus asks "What do you want me to do for you?"
Do I spend much time or energy seeking honor from others?
What do I admire about people I see in authority? What do I dislike?
What aspects of authority do I seek for myself? Respect? Honor? Recognition? Privilege?
How can I serve like Jesus asks when I am in a position of authority?
We are sorry that this post was not useful for you!
Let us improve this post!
Tell us how we can improve this post?