October 15 is the feast day of St. Teresa of Avila , a Carmelite mystic, and doctor of the Church. Along with St. John of the Cross she worked to reform the Carmelite order which she felt was too lax. Eventually her work led to the formation of the Discalced Carmelites. She is also called St. Teresa of the Child Jesus.
St. Teresa of Avila had powerful mystical visions which drew her into union with God, including one where an angel pierced her with a flaming spear of God's love. This is called the "transverberation" of her heart. When her body was exhumed in 1582, it was incorrupt and found to have a wound from a spear.
Patron Saint of …
St. Teresa of Avila is the patron saint of chess players, lace makers, loss of parents, people in need of grace, people in religious orders, people ridiculed for their piety, and those who are sick.
Daily Mass Readings for the Memorial of Saint Teresa of Jesus, Virgin and Doctor of the Church
In addition to the suggested readings below, the readings may also be taken from the weekday readings, the Common of Virgins, or the Common of Holy Men and Women.
First Reading – Romans 8:22-27: "Now hope that sees for itself is not hope. For who hopes for what one sees? But if we hope for what we do not see, we wait with endurance."
Responsorial Psalm – Psalm 19: "The judgments of the Lord are true, and all of them are just."
Gospel – John 15:1-8: "Just as a branch cannot bear fruit on its own unless it remains on the vine, so neither can you unless you remain in me."
Quotes and Social Media Graphics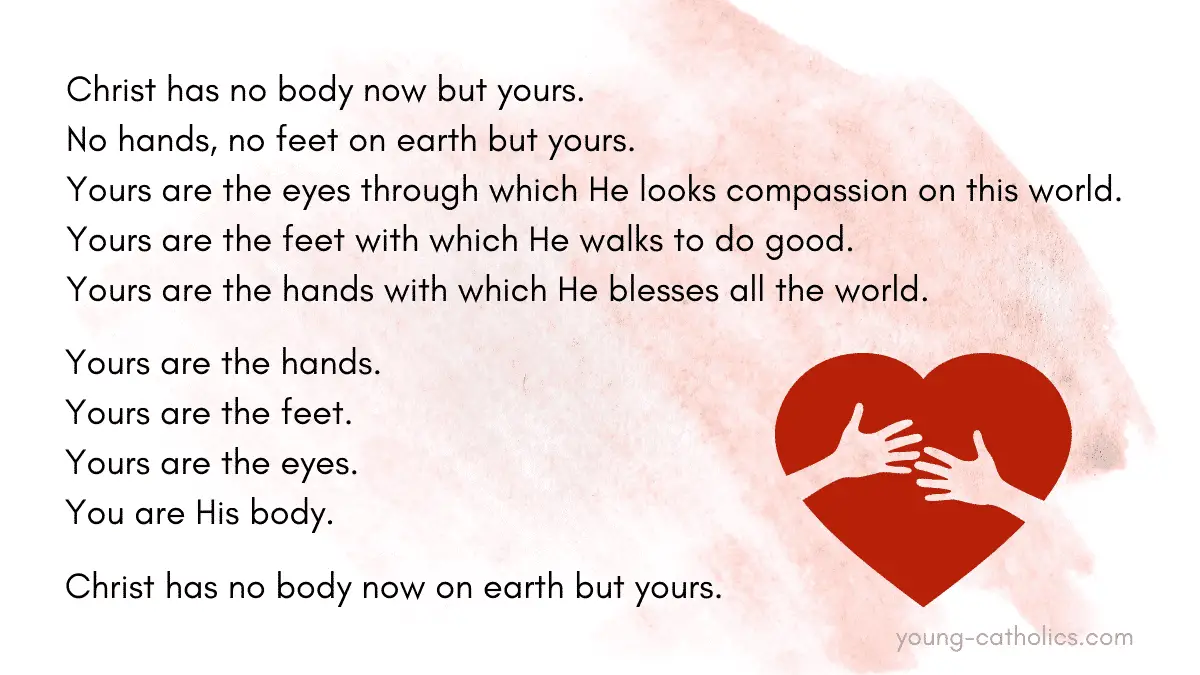 This beautiful prayer reminds us that we must continue to do the work of God here on earth. A social media graphic and a printable copy are available.
St. Teresa of Jesus teaches us that prayer is not to experience extraordinary things, but to unite ourselves to Christ. And the works of charity are the sign that this union is real.

Pope Francis
Transverberation of the Heart of St. Teresa of Avila
Our Lord was pleased that I should have at times a vision of this kind: I saw an angel close by me, on my left side, in bodily form. This I am not accustomed to see, unless very rarely. Though I have visions of angels frequently, yet I see them only by an intellectual vision, such as I have spoken of before.

It was our Lord's will that in this vision I should see the angel in this wise. He was not large, but small of stature, and most beautiful—his face burning, as if he were one of the highest angels, who seem to be all of fire: they must be those whom we call cherubim.

Their names they never tell me; but I see very well that there is in heaven so great a difference between one angel and another, and between these and the others, that I cannot explain it.I saw in his hand a long spear of gold, and at the iron's point there seemed to be a little fire. He appeared to me to be thrusting it at times into my heart and to pierce my very entrails; when he drew it out, he seemed to draw them out also, and to leave me all on fire with a great love of God.

The pain was so great, that it made me moan; and yet so surpassing was the sweetness of this excessive pain, that I could not wish to be rid of it.

The soul is satisfied now with nothing less than God. The pain is not bodily, but spiritual; though the body has its share in it, even a large one. It is a caressing of love so sweet which now takes place between the soul and God, that I pray God of His goodness to make him experience it who may think that I am lying. During the days that this lasted, I went about as if beside myself. I wished to see, or speak with, no one, but only to cherish my pain, which was to me a greater bliss than all created things could give me.

St. Terese of Avila, in her autobiography
Fr. Richard Rohr talks about the impact which St. Teresa of Avila had on him and how her writings are still relevant for us today.
Pope Francis explains that her prayer life was essential to her intense relationship with God.
Video Resource
St. Teresa of Avila Baptism and Confirmation Gifts
Frequently Asked Questions