Mass Readings for the 15th Sunday in Ordinary Time Year A
Themes for the 15th Sunday in Ordinary Time Year A
The readings for the 15th Sunday in Ordinary Time tell of how our relationship with God helps us grow, which in turn allows our lives to bear fruit. The first reading explains that God's Word is like the rain, which falls on the earth and makes it fertile. The second reading reminds us that a new creation is going to emerge. And in the gospel Jesus tells the parable of the sower and explains that our hearts must be ready to receive the Word of God.
So discipleship, scripture, and evangelization are some possible themes for this week. Here are some ideas:
Discipleship
Scripture
Evangelization
See the Homilies and Reflections section and the More Thoughts section for further expansion on these readings and some reflection questions for the 15th Sunday in Ordinary Time Year A.
Sponsored

Learn more about the parables
Resources for the 15th Sunday in Ordinary Time Year A
Lectio Divina means "divine reading". It is a prayer practice which trusts that God speaks to us through scripture.
Developing a healthy prayer routine requires some discipline. A prayer journal is a good way to stay focused during prayer. This can be an especially helpful practice for teens who are trying to develop a deeper prayer life. But it is appropriate for all ages.
This is an easy no-prep circle game for youth ministry, Vacation Bible School (VBS), church camp, or religious ed. It could be used for a lesson on the Fruits of the Spirit or to accompany discussion about "bearing good fruit".
Homilies and Reflections for the 15th Sunday in Ordinary Time Year A
Sunday July 16, 2023
Sunday July 12, 2026
Jeff Cavins discusses the parable of the seeds found in the Gospel for the Fifteenth Sunday in Ordinary Time.
Perhaps you gave up reading the Bible because it seemed irrelevant to your everyday life or because it became too hard to follow. If so, Fr. Mike Schmitz offers several reasons for you to pick up your Bible again, see it with new eyes, and allow it to transform your life.
From Bishop Robert Barron. God is a farmer who sows the seed of his love liberally, on good and bad soil, to saint and sinner alike. There is no limit to God's willingness to save. If we are the least bit cooperative, the grace of God will cause life to spring up in us thirty, sixty, or a hundred fold.
From Scott Hahn. Today's readings, like last week's, ask us to meditate on Israel's response to God's Word—and our own. Why do some hear the word of the kingdom, yet fail to accept it as a call to conversion and faith in Jesus? That question underlies today's Gospel, especially.
Also from Bishop Barron. This week, we hear from the book of the prophet Isaiah, and the theme of this short passage is the Word of God. How wonderful that we are hearing one of the greatest speakers of the Word precisely on this topic. How central to ancient Israelite religion was the Word! Biblical Israel knew itself to be a people to whom God uniquely had spoken.
More Thoughts for the 15th Sunday in Ordinary Time Year A
Change is difficult. St. Paul speaks of it in terms of a woman being in labor. Bringing something new into the world often involves pain. The Kingdom of God will not just quietly arrive. It will be birthed, and birthing is not easy.
The parable of the sower also describes a type of birthing. Seed is scattered and sown. Some results in life and some does not. Some life thrives and some passes away. Any woman who has suffered a miscarriage or stillbirth can relate to the excitement of the anticipated life followed by the sorrow and pain that which could have been lost.
When life first begins, we do not know where it will lead. Labor is difficult and and we risk ourselves in it. For those who have known loss in the past, it is difficult to trust that new life can appear. But we must be willing to chance it for the birthing of the Kingdom of God.
Reflection Questions for the 15th Sunday in Ordinary Time Year A
Sunday July 16, 2023
Sunday July 12, 2026
Is there an idea which needs to be birthed into my social circle?
Am I willing to risk pain and devastation for the Kingdom of God?
Have I ever shared pain with women who have suffered loss from miscarriage, stillbirth, or abortion?
Quotes and Social Media Graphics for the 15th Sunday in Ordinary Time Year A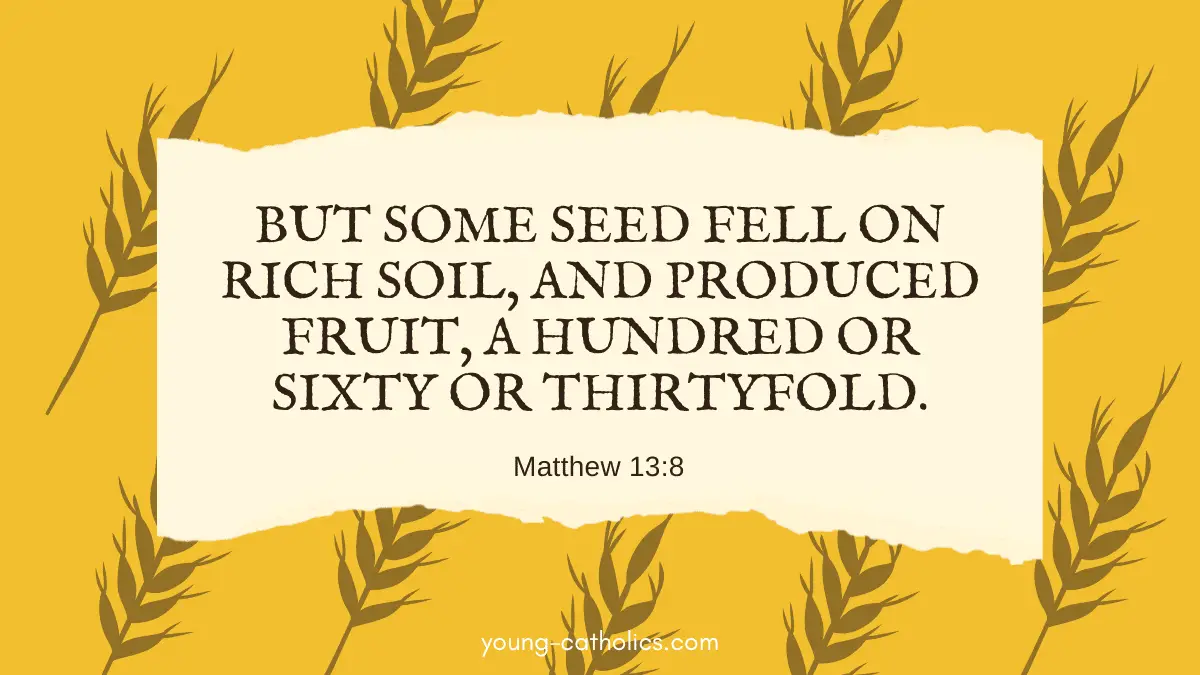 A sower went out to sow. And as he sowed, some seed fell on the path, and birds came and ate it up. Some fell on rocky ground, where it had little soil. It sprang up at once because the soil was not deep, and when the sun rose it was scorched, and it withered for lack of roots. Some seed fell among thorns, and the thorns grew up and choked it. But some seed fell on rich soil, and produced fruit, a hundred or sixty or thirtyfold. Whoever has ears ought to hear."
Witnesses do not lose themselves in words, but rather they bear fruit. They do not complain about others and the world, but start with themselves. They remind us that God is not to be proven, but shown; not announced with proclamations but witnessed by example.

Pope Francis
Frequently Asked Questions