Mass Readings for the 1st Sunday of Lent Year B
The readings for the 1st Sunday of Lent for Year B get us thinking how God is faithful even when we wander away from him. The first reading is the story of Noah's Ark. The psalm remind us to be faithful. The second reading explains that the great flood in the time of Noah preceded our baptisms. And the gospel tells us that Jesus spent 40 days (like the 40 days of the flood) fasting in the desert and returned ready to spread his message.
These readings for the 1st Sunday of Lent Year B get us started on our Lenten journey. It is time to commit to prayer, fasting, and almsgiving. There are many ideas for this on the Catholic Ideas for Lent page.
Themes for the 1st Sunday of Lent Year B
Our plans for the 40 days of Lent
Prayer, fasting, and almsgiving
The temptations of thinking that we will never want, we will never suffer, and we will control our destiny
The ways our culture misuses personal power, spiritual power, and political power
The 1st Sunday of Lent Year B is also a good time to remember that God always keeps His promises. We can place our hope in Him.
See the Homilies and Reflections section and the More Thoughts section for further expansion on these readings and some reflection questions for the 1st Sunday of Lent Year B.
Resources for the 1st Sunday of Lent Year B
This In the Desert lesson plan on prayer, fasting, and almsgiving will help youth understand the connection between the temptation of Jesus in the desert and Lenten focus on spirituality, sacrifice, and service. Youth will come to understand why we give things up for Lent.
Could You Give It Up is a Lenten variation of the Ten Fingers game. Youth must try to outwit each other by guessing what they would give up for Lent which the others would not.
This reflection will help youth consider what it means to repent. "What do I need to change to become closer to Jesus?" This focuses on the gospel for the 1st Sunday of Lent Year B.
Get on Noah's Ark is an easy game for youth of all ages. All you need is some laundry baskets and stuffed animals. Even your youngest students will enjoy this game.
Lenten Ideas for the 1st Sunday of Lent Year B
Catholics are required to fast on Ash Wednesday and Good Friday. Adding another day of fasting is a way of practicing an additional sacrifice during Lent. You can decide to fast one day per week. (Friday would be a traditional choice for this.) Or you can just fast a single day or a few days of your choosing.
Developing a healthy prayer routine requires some discipline. A prayer journal is a good way to stay focused during prayer. This can be an especially helpful practice for teens who are trying to develop a deeper prayer life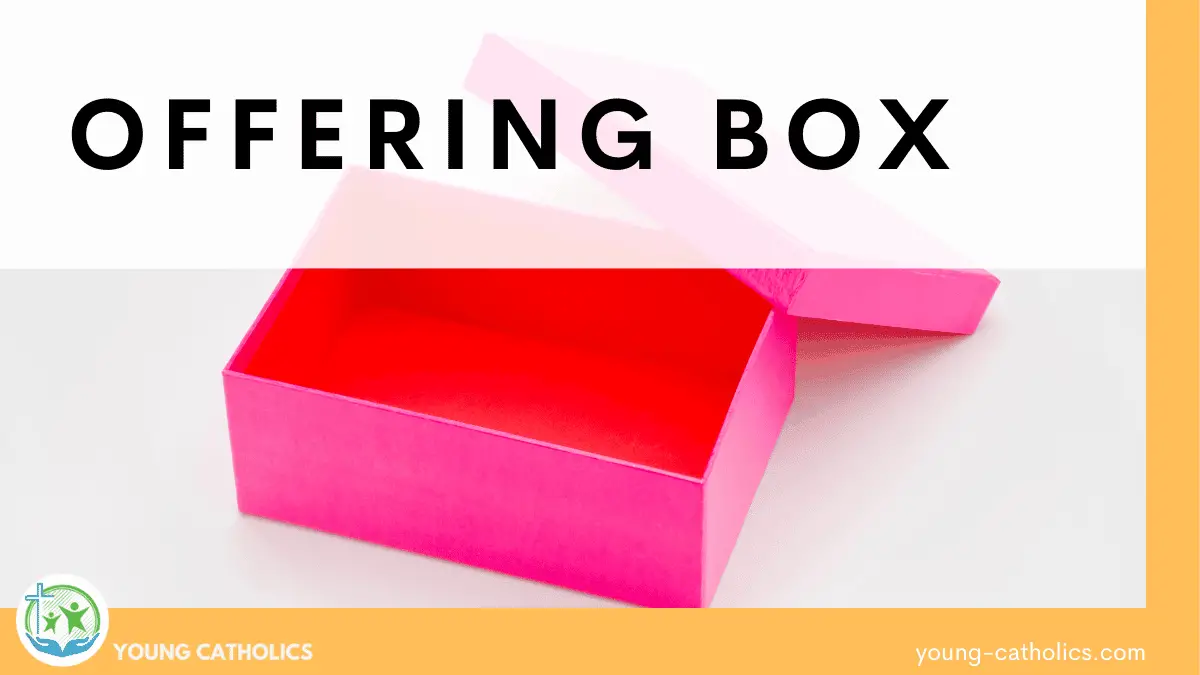 Lent is a beautiful opportunity to offer ourselves to our Lord.  An offering box is a tangible way to make our offerings. It can be used for many different types of offerings
One of the traditional Lenten practices for Catholics is prayer. During this holy season we are called to grow closer to our Lord by increasing and focusing our prayer life.
See specific ideas for practicing prayer, fasting, and almsgiving during the Lenten season.
Homilies and Reflections for the 1st Sunday of Lent Year B
A homily for the 1st Sunday of Lent Year B from Bishop Robert Barron. "As Lent commences, the pews will be filled with people escaping the chaos of the modern world and finding a place of peace and order within the ship-like safety of the Church. In today's readings, we hear the peculiar story of Noah in the book of Genesis, a story that actually correlates with the Mass. We find in the ark a remnant of God's right order as he remakes the world through the purifying waters of the flood. We, too, are called to preserve the life of the world within the symbolic "ark" of the Church, but only to let that life out for the good of the World."
A reflection for the 1st Sunday of Lent Year B from Scott Hahn. "Lent bids us to return to the innocence our baptism. As Noah and his family were saved through the waters of the deluge, we were saved through the waters of Baptism, Peter reminds us in today's Epistle." Continue reading.
In this reflection for the 1st Sunday of Lent Year B, Jeff Cavins helps us enter into Lent with not just faith in what Jesus taught, but a genuine trust in Jesus the person.
This is a homily for the 1st Sunday of Lent Year B from Fr. Richard Rohr of the Center for Action and Contemplation. He explains that sometimes we can get to the end of Lent and wonder if anything really happened. We must allow ourselves to change. And we must allow ourselves to be tempted.
More Thoughts for the 1st Sunday of Lent Year B
In the story of Noah and the Flood, God sends a great flood to cleanse the earth of its wickedness and to start anew. Noah, however, is found to be righteous in the eyes of God and is instructed to build an ark to save himself, his family, and the animals from the flood. After the flood subsides, Noah and his family are able to start anew and to rebuild the world.
The love of God for all of his creation is affirmed and the rainbow in the clouds serves as a reminder of this truth. Additionally, it serves as a reminder that we too have a responsibility to care for all of creation just as God does.
Similarly, in the season of Lent, we are called to repent and to turn away from sin, so that we may start anew and be renewed in our relationship with God. Through prayer, fasting, and almsgiving, we seek to cleanse our hearts and minds of all that separates us from God, just as the flood cleansed the earth of its wickedness.
The Gospel of Mark 1:12-15 presents us with a powerful story of Jesus' temptation in the wilderness and the beginning of his ministry. Like the story of Noah, there is also a connection with all of creation. He lives with non-human creatures and is supported by angels. This reminds us of the passage of Isaiah 11:6-9 which tells of harmony between humans and beasts.
In the wilderness, Jesus is tempted by Satan to abandon his mission and to choose the easier path. However, Jesus resists temptation and affirms his commitment to his Father's will. This reminds us of the nature of temptation in our own lives and the importance of staying true to our values and beliefs, even in the face of adversity.
Hope and Transformation
The Gospel message that Jesus proclaims is one of hope and transformation. He invites us to believe in the Good News and to participate in the coming of God's kingdom. This message reminds us that no matter how far we may have strayed from God, we always have the opportunity to turn back to him and to experience his transformative power in our lives.
We also can have hope to transform our world. We are called to be mindful and attentive to all of creation. All of us are called to care for God's masterpiece.
Reflection Questions for the 1st Sunday of Lent Year B
What needs to be cleansed and renewed in my life?
What can I do to show my love for God's world?
Is there a specific transformation which I am hoping for during this Lenten season?
Social Media Graphic for the 1st Sunday of Lent Year B
After John had been arrested, Jesus came to Galilee proclaiming the gospel of God: "This is the time of fulfillment. The kingdom of God is at hand. Repent, and believe in the gospel."

Gospel: Mark 1:12-15
Frequently Asked Questions for the 1st Sunday of Lent Year B