2nd Sunday of Lent Year C
Sunday March 16, 2025
Mass readings for the 2nd Sunday of Lent Year C
Themes for the 2nd Sunday of Lent Year C
The readings for the 2nd Sunday of Lent Year C show us that God is truly present in our world. The first reading tells of Abram's encounter with God and the covenant which was made. The psalm declares "Your presence, O Lord, I seek. Hide not your face from me." The second reading reminds us that God has the power to transform us. And the gospel tells of when Jesus took Peter, James, and John up the mountain and they witnessed his transfiguration.
Letting God transform us
Seeing God manifest in our lives
Letting go of stereotypes
See the Homilies and Reflections section and the More Thoughts section for further expansion on these readings and some reflection questions.
Sponsored

Give up something different for Lent
Resources for the 2nd Sunday of Lent Year C
This lesson plan on mountains in the Bible will help youth understand the significance of the many references to mountains in scripture. We will discuss why mountains are seen as a place to encounter God and think about how we can go to the mountaintop.
This prayer based on Psalm 121 is a prayer to meet God on the mountain. There we see His eternal goodness and faithfulness.
Around the Mountain Game is an icebreaker. It is a combination of I Would Never Ever and Musical Chairs.
This prayer praising the power of God is based on Psalm 33, which is the responsorial psalm for this Sunday.
The Transfiguration will help youth think about the ups and downs of life. Sometimes we are in a really great place, but eventually we have to come down the mountain.
This engaging video tells the story of the Transfiguration with Legos. Kids of all ages will appreciate this presentation of this passage from the Gospel.
Lenten Ideas for the 2nd Sunday of Lent Year C
Giving away clothes or toys to a charity is a good way to practice almsgiving. But just giving away something you don't want or use anymore is more like an act of closet cleaning than an act of sacrifice. Consider including at least one item you use frequently and enjoy.
Yes. It's a Catholic tradition. The fish fry. In our area local news stations even publicize them and have maps of them on their websites. Sure they are related to our practice of abstaining from meat on Fridays, but they are more about community.
The pretzel is a symbol of prayer. The twist in the pretzel is meant to look like hands in prayer. And pretzels are made with simple ingredients – no sugar, butter, eggs, milk, etc. Includes a prayer you can say together before you enjoy your pretzels.
The Night Prayer from the Liturgy of the Hours is a really peaceful way to end the day. Some people feel like the Liturgy of the Hours is too "old fashioned" to use with teens and children, but they can learn to appreciate it.
All Catholics abstain from meat on Fridays during Lent as a form of fasting. For personal fasting, you can choose to voluntarily abstain from meat one more day during the week.
During this holy season we are called to grow closer to our Lord by increasing and focusing our prayer life. What better way to do this than by attending a weekday Mass? If Monday through Friday doesn't work for you, go on a Saturday morning.
See specific ideas for practicing prayer, fasting, and almsgiving during the Lenten season.
Homilies and Reflections for the 2nd Sunday of Lent Year C
St. Paul speaks of how the Lord Jesus "will change our lowly body to conform with his glorified body." We get a glimpse of what this transformation, this metamorphosis, will be like in the Transfiguration of Jesus.
In Luke's version of the Transfiguration, the gospel for the 2nd Sunday of Lent Year C, Luke tells us what Jesus was speaking about with Moses and Elijah: namely, Jesus' Exodus.
This video refection for the 2nd Sunday of Lent Year C reminds us that we all struggle with the promises of God. Sometimes we make our own plans instead. We must trust and believe in God. Faith will change us.
Jesus is revealed as the one through whom God fulfills his divine plan. But he is also more than a "new Moses". He is also the beloved son promised to Abraham and David. Hear more of this reflection from Scott Hahn for the 2nd Sunday of Lent Year C.
This is a homily from Bishop Robert Barron for the 2nd Sunday of Lent Year C. The Transfiguration opens our minds to a sense of wonder and a world beyond what we experience here. These signal a higher world beyond our senses.
Scott Hahn explains that by His death and resurrection, Jesus will lead a new Exodus—liberating not only Israel but every race and people; not from bondage to Pharaoh, but from slavery to sin and death. This is a reflection for the 2nd Sunday of Lent Year C.
More Thoughts for the 2nd Sunday of Lent Year C
God's glory is always present in our lives. Sometimes we are too attached to our own expectations, or our stereotypes of others, to see it in others.
We might also be too set in our own ways, unwilling to let God transform us so His glory can shine through us. We need to let go of the image we want to project to the world so that people can see God's glory through us.
The readings for this weekend point to faith. We need faith in God's promises. Abraham had faith in God. When he was told "Look up at the sky and count the stars, if you can. Just so,shall your descendants be.", it was daytime. He wouldn't have seen anything. But he had faith in God.
Reflection Questions
Do I trust in God's promises?
How have I seen God's glory revealed lately?
Am I willing to let God transform me? What do I have to let go to allow that to happen?
Quotes and Social Media Graphics for the 2nd Sunday of Lent Year C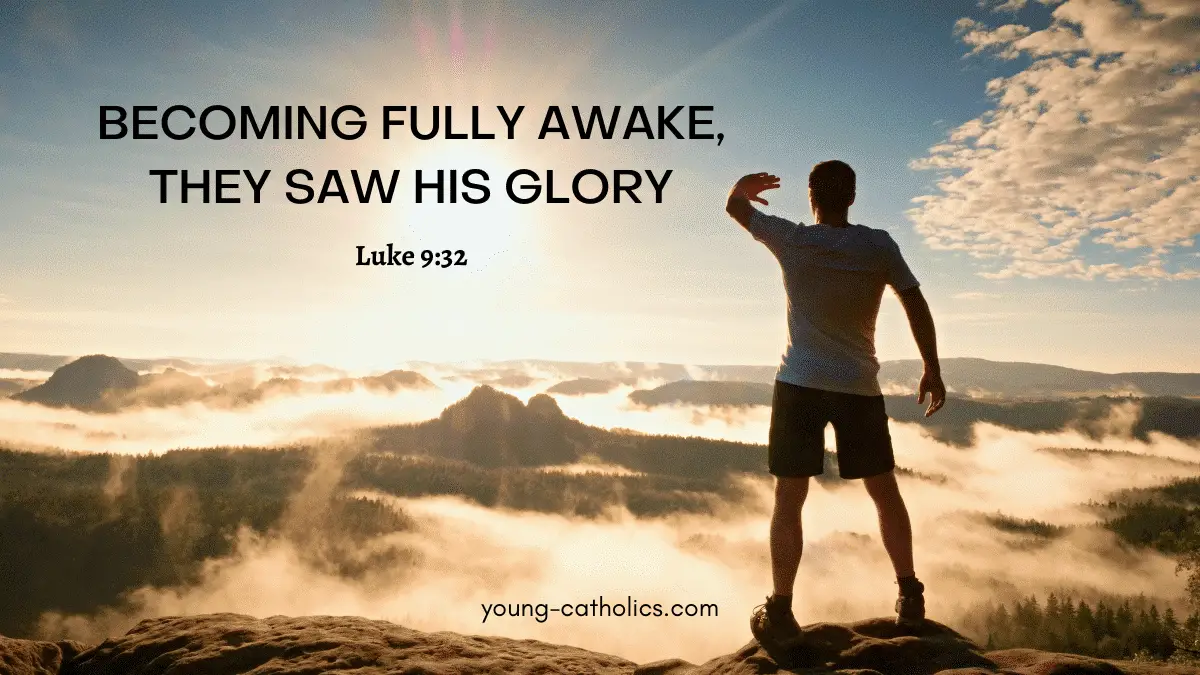 Peter and his companions had been overcome by sleep, but becoming fully awake, they saw his glory and the two men standing with him.

Gospel – Luke 9:28B-36
Like the disciples, we too are in need of God's light, that makes us see things in a different way: it attracts us, it reawakens us, it reignites our desire and strength to pray, to look within ourselves, and to dedicate time to others.

Pope Francis
Frequently Asked Questions
Like this: