Divine Mercy Sunday (2nd Sunday of Easter)
Sunday April 27, 2025
Mass Readings for Divine Mercy Sunday Year C
Themes for Divine Mercy Sunday Year C
The readings for Divine Mercy Sunday for Year C tell of Jesus Christ's incredible love for us and his willingness to display his care for us. The first reading tells of how God works wonders through his children. The second reading tells of how God revealed his mysteries to us. And in the gospel we learn of how Jesus lovingly convinced Thomas that he was truly risen.
The loving mercy of Jesus
Letting go of our doubts
The mysteries of God
Revealing the identity of Jesus
See the Homilies and Reflections section and the More Thoughts section for further expansion on these readings and some reflection questions for Divine Mercy Sunday Year C.
Sponsored

Death does not have the final word
Resources for Divine Mercy Sunday Year C
This reflection will help youth think about what it means to believe in something which can't be seen. How do we know it is real?
This litany of belief is a prayer based upon the prayer of the father of the boy possessed by a demon (Mark 9:24) and the profession of faith of St. Thomas the Apostle (John 20:28). The responses are "I do believe, help my unbelief" and "My Lord and my God".
This prayer is based on Psalm 118, which is the responsorial psalm for this Sunday. It s a prayer of joyful thanksgiving. It celebrates our salvation and expresses gratitude to God.
Understanding the Book of Revelation can be difficult. Every time we participate in the Eucharistic celebration we are actually taking part in a liturgy where heaven intersects with earth.
The Divine Mercy Chaplet is a devotion which reminds us that God is merciful and that we too must show mercy. We pray for mercy for ourselves and the whole world.
St. Faustina is known for her diary and for promoting devotion to Jesus as the King of Mercy which is particularly done by praying the Divine Mercy Chaplet.
Homilies and Reflections for Divine Mercy Sunday Year C
This feast of Mercy really gets to the core of Easter's true meaning. In the Resurrection, God the Father accepted his Son's sacrifice as a new and eternal mode of God's being God: in the heart of the eternal Trinity is forever the risen Body of Jesus ever-marked with the signs of the Passion. God now, only and for all ages, relates to creation through the open wounds of the Risen Christ.
Bishop Robert Barron explains that readings for the second Sunday of Easter speak to us of three apostles, who were three pillars of the Church: Peter, John, and Thomas. Each one functions as an archetype for an essential feature of the life of the Church, and each are needed to balance and complete each other.
Jeff Cavins offers insights on the readings for the 2nd Sunday of Easter, Divine Mercy Sunday Year C. Jesus goes in search for the disciples. They are hiding behind a locked door.
Friends, Revelation comes from the Latin "Revelatio," which in turn translates the Greek "Apokalypsis"—which means, literally, "unveiling." This final book of the Bible, which has fascinated Christians and non-Christians for two thousand years, is not primarily about the end of the physical world; rather, it is meant to unveil something that every generation of Christians needs to see—namely, a new world that God wants to be born out of the ruins of the old.
More Thoughts for Divine Mercy Sunday Year C
The incarnation is God's greatest act of mercy. Through Jesus Christ we are completely reconciled to God. We receive the indwelling of the Holy Spirit. We see that death cannot separate us from God's love.
In the gospel, Jesus breathes on the disciples and tells them to receive the Holy Spirit. He also charges them to continue his mission of reconciliation. We must be signs of God's mercy in the world. We must not hold back this mercy, for we ourselves have been forgiven.
Reflection Questions for Divine Mercy Sunday Year C
What are some times in my life when I have received God's mercy?
Who do I need to show mercy to right now?
How can mercy bring healing to the wounds of our world?
Quotes and Social Media Graphics for Divine Mercy Sunday Year C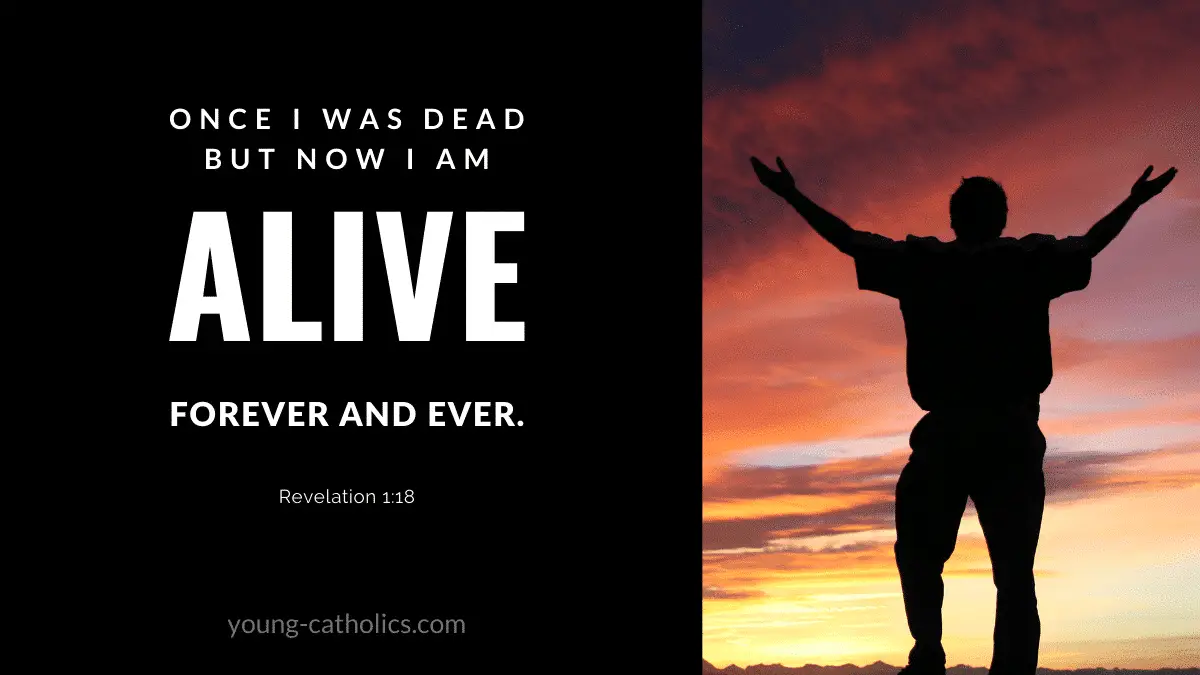 Do not be afraid. I am the first and the last, the one who lives. Once I was dead, but now I am alive forever and ever.

Revelation 1:17-18
Frequently Asked Questions
We are sorry that this post was not useful for you!
Let us improve this post!
Tell us how we can improve this post?