About Mary Undoer of Knots
Feast Day: September 28
Our Lady Undoer of Knots is a devotion to our Blessed Mother which is portrayed in a 18th century painting by German artist Johann Schmidtner. In the painting, Mary is portrayed untying a complex knot. In this devotion, Catholics ask Mary to assist us in untying the knots in our lives through her intersession to our Lord Jesus.
Quote from St. Ireneus
This is thought to be first mentioned by St. Ireneus:
The knot of Eve's disobedience was loosed by the obedience of Mary. For what the virgin Eve had bound fast through unbelief, this did the virgin Mary set free through faith.

St. Ireneus
Social Media Quote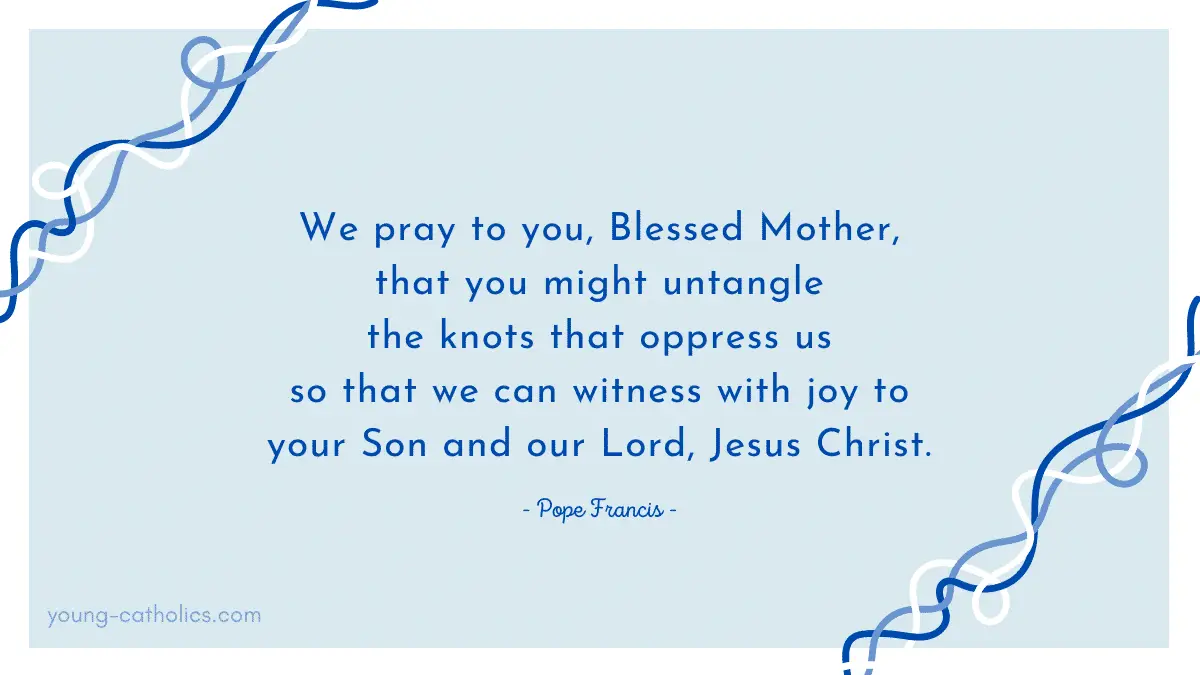 Other Resources for Our Lady Undoer of Knots
Play this teambuilding game as a tie-in to Our Lady, Untier of Knots. Getting out of a tangled situation can be challenging!
This printable includes a prayer and reflection questions for this devotion.
Tie some knots while making this rosary slide bracelet or key chain. Then you can always have a prayer aid for the rosary with you.
This game also goes well with a theme of all of the entanglements in our lives.
This lesson plan will help youth understand why Catholics have devotions to Mary.
We are sorry that this post was not useful for you!
Let us improve this post!
Tell us how we can improve this post?