3rd Sunday of Easter Year C
Sunday May 1, 2022
Mass Readings for the 3rd Sunday of Easter Year C
Themes for the 3rd Sunday of Easter Year C
The readings for the 3rd Sunday in Easter Year C show us that we must boldly proclaim the Good News and bring in a large catch of new Christians. In the first reading, the apostles are told not to preach of Jesus Christ, but they continue even though they suffer for it. The second reading shows all creatures in heaven and earth proclaiming Jesus Christ as king. And in the gospel, several disciples were fishing when Jesus appeared to them. He told them where to cast their nets and they retrieved a great catch. Then Simon Peter recognized Jesus and swam to him.
Evangelization
Recognizing Jesus
Suffering for the gospel
All of the earth praises God
See the Homilies and Reflections section and the More Thoughts section for further expansion on these readings and some reflection questions for the 3rd Sunday of Easter Year C.
Sponsored

Death does not have the final word
Resources for the 3rd Sunday of Easter Year C
This Feed My Sheep lesson plan on service will help youth understand that we are all called to care for each other. Christian service involves sacrifice, but Jesus is there to strengthen us.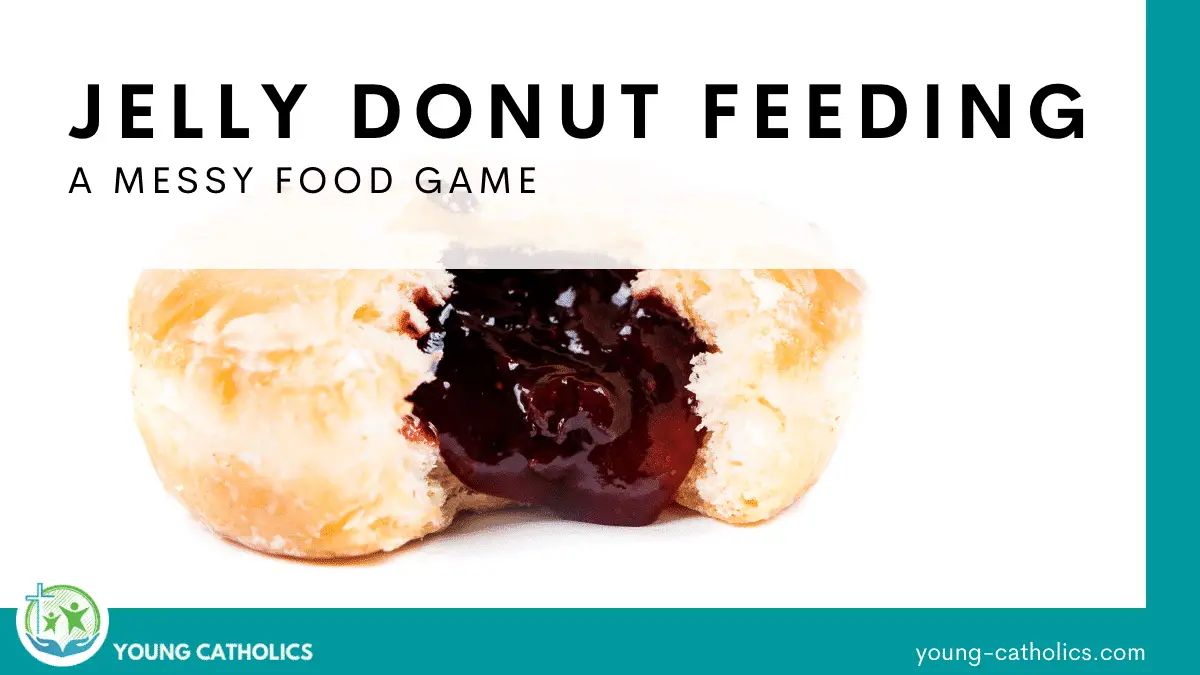 Jelly donut feeding is a messy food game. It involves blindfolds and sticky jelly doughnuts! Have some cleanup supplies on hand. This is played as an up front game.
This is a prayer based on Psalm 30, which is the responsorial psalm for the 3rd Sunday of Easter Year C. Sometimes we are overcome by fear. We think we can handle it ourselves. But eventually we find that we need God's grace. And when we turn to Him, he does not disappoint.
Understanding the Book of Revelation can be difficult. Every time we participate in the Eucharistic celebration we are actually taking part in a liturgy where heaven intersects with earth.
Will you get a fish or won't you? Fish bowl toss is an easy game which is a take on a traditional carnival game. In the traditional game, if you land your ball in a bowl with a fish, you get a live goldfish! But this version does not have live fish.
Homilies and Reflections for the 3rd Sunday of Easter Year C
From Bishop Robert Barron.The last stanza of a poem, the last chapter of a novel, or the last lines of a play are of extraordinary significance, but only if you've read the whole work up to that point. Similarly, to understand the book of Revelation, the last book of the Bible, we have to attend to the great sweep of the story beginning in Genesis.
Jeff Cavins reflects on the readings for the the 3rd Sunday of Easter Year C. The Gospel this Sunday recounts when Jesus visits Peter after the Resurrection. Jesus shows Peter how God never lets us go, even when we turn from him.
In the Gospel of John for the 3rd Sunday of Easter Year C, Jesus does not ask Peter this question three times because he was hard of hearing or slow to comprehend Peter's answers.
Scott Hahn shows further connection between Peter's denial and today's gospel. At the first fire, Peter denied knowing Jesus three times, as Jesus had predicted. Today's charcoal fire becomes the scene of Peter's repentance, as three times Jesus asks him to make a profession of love.
Mark Hart from Life Teen explains that when something great happens, we want to tell everyone about it. That is what happens in Acts of the Apostles this week.
Bishop Robert Barron explains that the passage from the Acts of the Apostles, is surprisingly instructive for our time in the life of the Church. It witnesses to something that is essential to Christianity, namely, that we are a relentlessly public religion. This is not a privatized religion we're talking about. This is a faith and a kingdom meant for everyone on earth.
More Thoughts for the 3rd Sunday of Easter Year C
In today's gospel, Jesus calls Peter and the disciples beyond the teacher-student relationship. Up to this point, he has been their rabbi or "great one" and they have been his followers. They followed him, as a Jewish disciple would follow a rabbi. He gave them instruction and an example to follow.
At the Last Supper, Jesus turned that relationship upside down. Normally a disciple would serve the rabbi. But he washed their feet instead. This was a shock to them. And in his farewell discourse he calls them friends.
Here at the Sea of Tiberias, he goes even further. He calls Peter (and all of us) to love him. This is not a superficial friendship, but a deep bond. We are called to give our whole selves to Jesus.
Sometimes our own journeys follow this pattern. We might start out with some knowledge of Jesus. Then perhaps we have a deeper understanding. We might have an experience which sends us into a period of infatuation and excitement. But eventually we come to that deep love, like the love between spouses, with its lasting commitment.
Reflection Questions for the 3rd Sunday of Easter Year C
When Jesus asks me "Do you love me?", what is my honest answer?
What sort of love do I feel for Jesus right now: interest, friendship, infatuation, commitment?
Do I see myself as a friend of Christ?
Quotes and Social Media Graphics for the 3rd Sunday of Easter Year C
Then I heard every creature in heaven and on earth and under the earth and in the sea, everything in the universe, cry out: "To the one who sits on the throne and to the Lamb be blessing and honor, glory and might, forever and ever."
Frequently Asked Questions
We are sorry that this post was not useful for you!
Let us improve this post!
Tell us how we can improve this post?