Christmas
Sunday December 25, 2022
Christmas is an important celebration in the Church. Only Easter carries a greater significance. On this feast we celebrate the incarnation of our Lord – God choosing to become one of us.
Christmas is celebrated as an octave – eight days of observance.
The Christmas season starts on December 25 with the Feast of the Nativity of Our Lord and concludes on the Feast of the Baptism of Our Lord . It includes the Feast of the Epiphany.
Christmas Day – The Feast of the Nativity of Our Lord
Sunday, December 25, 2022
Mass Readings for the The Nativity of the Lord (Christmas)
For the Vigil Mass
For Mass During the Night
For Mass at Dawn
For Mass During the Day
Resources for Christmas
A Charlie Brown Christmas emphasizes the religious nature of the holiday. But did you ever notice that Linus drops his blanket during the show?
Imagine trying to come up with the perfect gift for our savior. How did the wise men handle it? A humorous skit.
Sponsored
Catholic Christmas traditions
Christmas Quotes and Social Media Graphics
Contemplating the Baby Jesus, with His humble and infinite love, let us say to Him, very simply: "Thank you for doing all this for me!"

Pope Francis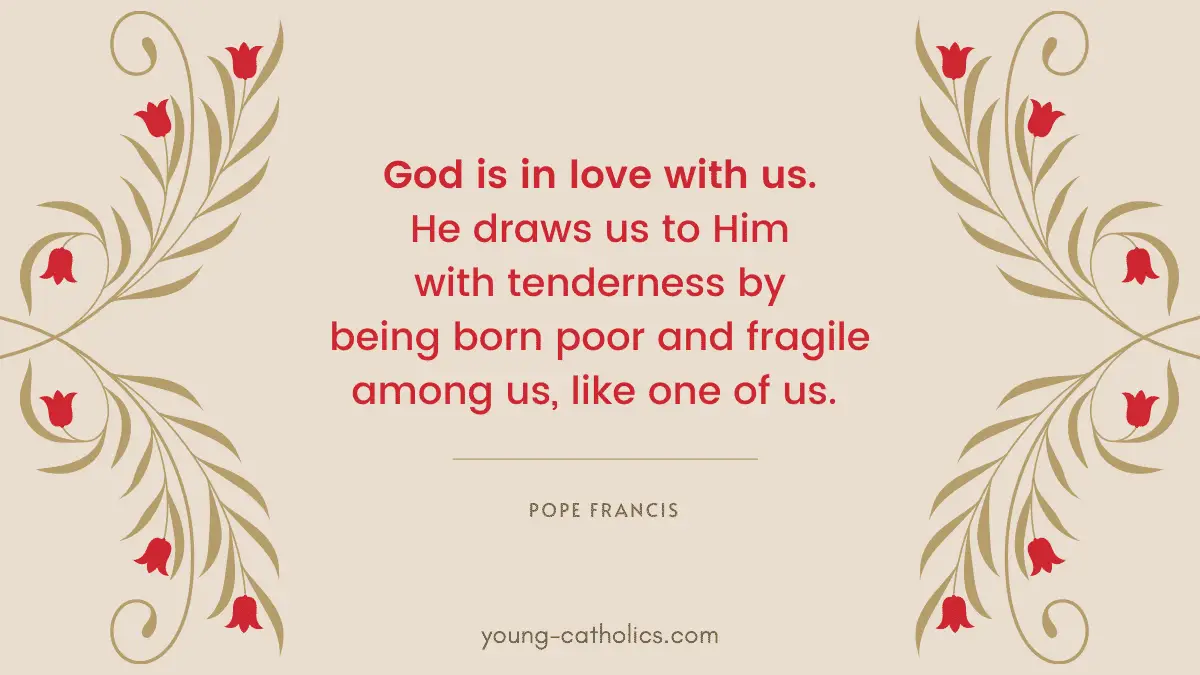 God is in love with us. He draws us to Him with tenderness by being born poor and fragile among us, like one of us.

Pope Francis
Faced with our frailties, the Lord does not withdraw. He does not remain in his blessed eternity and in his infinite light, but rather he draws close, he makes himself incarnate, he descends into the darkness. This is God's work: to come among us.

Pope Francis
Sadly, most people's image of God is jolly Santa, making a list and checking it twice, finding out who's naughty or nice. It's certainly not this humble, helpless baby who has come to love us in ways that we're not ready to be loved.

Fr. Richard Rohr
Tonight a light has been lit, a kindly light, reminding us that in our littleness, we are beloved sons and daughters, children of the light. Let us rejoice together, for no one will ever put out this light, the light of Jesus, who tonight shines brightly in our world.

Pope Francis
This is the lesson of Christmas: humility is the great condition for faith, for the spiritual life and for holiness. May the Lord grant it to us as a gift.

Pope Francis
We are sorry that this post was not useful for you!
Let us improve this post!
Tell us how we can improve this post?